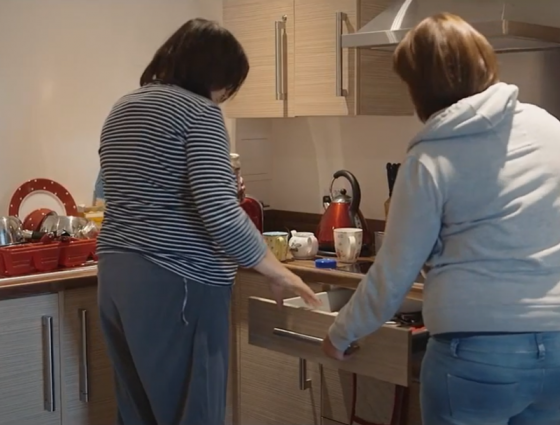 Supported living (for people with disabilities)
For people with a disability to get the support they need to be able to live in a home they own or are a tenant in.
What is Supported Living for people with disabilities
Supported living is where a person with a disability gets the support they need to live in a home they own or are a tenant in.
They can live alone or with others. The support people receive is personalised and centred on their needs.
Watch the following video to meet a number of people who show us how supported living helps them live more independently.
Housing choices
In Worcestershire, some of the main housing choices are:
adult placements and supported lodgings
buying your own home
cluster flats
renting from a council or housing association
renting privately
residential care
supported living arrangements
supported living networks
What is important is that making the right housing choices depends on what is important to the person. Some options are good if they want to live in their own home and others are good if they want to live with friends or others.
If you need to discuss your needs, please contact us.
Types of support
Housing support
This is to help you manage your home. It is sometimes provided by your landlord as part of the service.
Outreach or floating support
This is support that gives you support in your home when you need it. It is separate from your landlord. It can be anything from 3 hours a week to most of the day and night.
Domiciliary support
This is support that is provided in your home like floating support and includes help with personal care.
Live in support
This can be a live in carer who provides all of your support, a support tenant that provides some of your support or a Community Support Volunteer (CSV) who provides some or all of your support.
Home help or cleaner
If you do not want to or cannot clean or cook you can get home help or a cleaner to help you.
Assistive technology
These are gadgets and devices that keep you safe or help you communicate.
Friends and family
You can get some help from friends and family.
Funding options for housing
housing benefit to rent from social housing
Local Housing Allowance to rent from private sector landlords
family funded
shared ownership - interest paid by benefits,  90% mortgages
Videos from those using Supported Living
Joanne's story
Joanne is a 26 year old woman with a learning disability. She lived at home with her parents after returning from residential college and was nervous about living on her own, however she and her parents were keen to build on the skills she learned at college.
Claire's story
Claire is a 25 year old woman with a learning disability who recently returned from residential college where she gained important life skills and employment. Claire has been able to continue this progress and move into her own flat securing employment locally.
Anne's story
Anne is a 56 year old lady with a learning disability who has lived in residential care for many years. Moving into supported living was both exciting and daunting for Ann but has proved to be extremely successful.
Sammy's story
This film follows a woman who lived in shared supported accommodation moving to her own flat in a cluster flats scheme. She is supported by her mother who secured a flat in a similar extra care scheme nearby meaning that they are able to live close to each other whilst maintaining their independence and receiving support individually.
Market Position Statement
This Position Statement provides further information regarding the requirements for Supported Living in Worcestershire for 2021-24.
For this Statement, Supported Living is defined as services for individuals who:
live in shared houses with support
live in clusters of flats with on-site, often 24/7 support
live alone with support, the key purpose of which is not personal care but to support with ordinary living skills
Read more in the Supported Living Market Position Statement 2021 – 2024 (PDF)