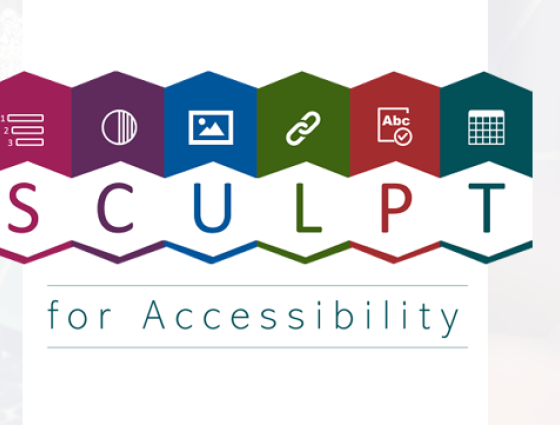 About SCULPT for Accessibility
What is SCULPT?
Beyond our specialist and skilled web team, our aim with SCULPT for Accessibility is to raise basic awareness and skills across the wider workforce. It is a beginners guide to the basics of everyday inclusive digital practice.
We want people to know how to apply the basic principles of digital accessibility into all documents and content they produce. 
We are keen to make sure that the content we create for our customers and colleagues can be used by everyone, including those on assistive technology or screen readers.
Getting the basics of inclusive digital practice right is the first step, and SCULPT helps us to underpin the first steps of basic awareness and the skills that everyone across the workforce can learn. 
SCULPT came from research
SCULPT came out of research to understand user needs, and to address basic digital accessibility awareness and training requirements for a wider workforce approach.
The full journey to develop SCULPT can be read at AbilityNet: Everyone can SCULPT for Accessibility.
SCULPT is a simple acronym of six basics, a visual identity and underlying framework to introduce digital accessibility in a bite-sized approachable way.
Letter by letter SCULPT outlines the importance of some simple adaptions to content or documents that can be understood and applied by anyone at a basic level, whatever digital skills level they are at. 
SCULPT started life as a basic PDF guide, but this was soon developed into a series of internal web pages and then this website.
SCULPT is six basic principles of guidance
We have developed a SCULPT workforce model to weave these six SCULPT principles as a minimum standard into everything we do.
To help with an accessibility awareness campaign the SCULPT printable infographic poster was used an easy way for people to recognise and remember the acronym of how to SCULPT content for basic accessibility.
This poster is ideal for putting up in offices around the building.
SCULPT is a simple way to start making a difference
Sandy Bannister, our former Equality and Diversity Manager explains why SCULPT can help users of assistive technology: