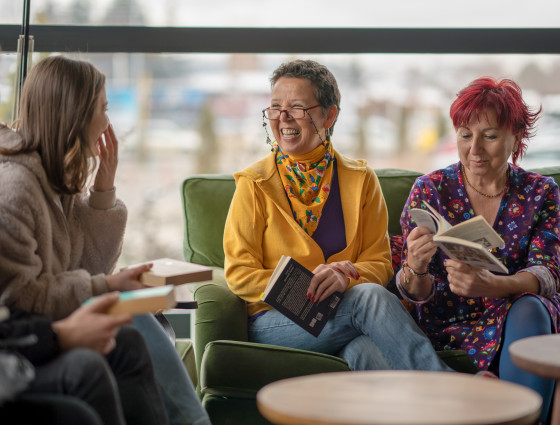 Libraries Unlocked
A libraries unlocked membership allows customers to enter specific libraries outside of standard opening hours.
New technology allows customers with Libraries Unlocked membership to enter the library using their library card outside normal opening hours and to use library services independently when staff are not present. 
Libraries Unlocked will not have an impact on the wide range of library activities available at local libraries.
Apply for a Libraries Unlocked membership
Libraries Unlocked is live in Droitwich Library and Stourport Library.
Customers who upgrade to free libraries unlocked membership will be able to access the library from 8:00am to 8:00pm Monday to Saturday.
All library members who are 16 and over are eligible to upgrade to free Libraries Unlocked membership. Under 16s can visit the library during Libraries Unlocked opening hours, but for safeguarding reasons, must be accompanied by a Libraries Unlocked member.
Contact us to join Libraries Unlocked
Libraries Unlocked opening times
To view opening times and more information see the individual library pages:
During Libraries Unlocked hours you can:
borrow, return and renew library items using self-service kiosks
use a free library computer or free library Wi-Fi and print documents
use study spaces
search online reference services e.g. Ancestry 
hire a library meeting room
meet with friends or join a social connecting interest group
take part in activities provided by library partners including adult learning classes, and BIPC business support services
Learn more about Libraries Unlocked
Rae-Anne Preece - Lead Youth Worker for the Detached Project
"The open environment that Libraries Unlocked offers has given young people a local community space they feel comfortable and happy to visit, and we've been able to really engage with them and see them grow in confidence and skills."
Why Libraries Unlocked has been introduced in Worcestershire
The Council's Library Strategy sets out a vision for Worcestershire Libraries from 2020 to 2025 that sees:
greater awareness and use of library services by Worcestershire residents
increased use of libraries by local residents, community groups and service providers
libraries established as a 'front door' for Council and community services
library services tailored to meet community needs
investment in new technology and new service delivery models to future-proof the library network
Investment in Libraries Unlocked technology has allowed Worcestershire Libraries to increase library opening hours at Droitwich and Stourport, to:
provide more convenience for customers who find it difficult to visit their local library during normal working hours
allow a wider cross-section of the community to take advantage of library services
enable residents and community groups to get the best use out of their local library
Libraries Unlocked is being added to more local libraries
In June 2022, Libraires Unlocked was successfully implemented in Droitwich and Stourport Libraries allowing community groups and library members to visit their local library outside of staffed opening hours. 
Following implementation we have had a positive response to Libraries Unlocked from library members and community groups and the decision has been made to roll-out Libraries Unlocked to more libraries in Worcestershire.
Malvern, Evesham, Redditch, Kidderminster, Wythall, Pershore, Bromsgrove, Hagley, Alvechurch, Rubery, Warndon and St John's libraries are part of the next planned stage of Libraries Unlocked.
We will invite local library customers to attend customer engagement sessions at the library as soon as a go-live date has been identified for a new Libraries Unlocked site. The sessions will provide an opportunity for library members to find out more about how Libraries Unlocked will work, to ask questions and to make suggestions for how the community can make the most of the new service.
What customers have told us about Libraries Unlocked
We received just under 2000 responses to our formal public consultation on library transformation options in 2018 to 2019 which included a consultation survey and public meetings in all libraries. We gained valuable customer feedback and have incorporated a variety of measures into Libraries Unlocked based on that feedback. 
We also surveyed Libraries Unlocked customers at Droitwich and Stourport Libraries in 2022 and have made further improvements based on their feedback.
Going forward we will survey Libraries Unlocked customers 6 to 12 months after go-live at each library to determine what is working well and what needs to be adjusted.
Response from library customers
Feedback from Libraries Unlocked customers at Droitwich and Stourport Libraries has been positive and has revealed that the service is particularly popular with working people and working parents.
3000 library customers have signed up to the new service (75% of Stourport's active library members and 61% of Droitwich's active library members). There have been just under 19,000 visits, 24,000 book issues and almost 5,000 public computer sessions during Libraries Unlocked opening hours. 
*Stats correct as of 30 September 2023.
Response from community organisations
Many community partners have taken advantage of the extended library opening hours to introduce new partner-led events, helping to foster a vibrant community spirit in the library. 
New events and activities include: 
Citizens Advice sessions
Police Community Support Officer sessions
Chess Club
Knit and Natter
Cancer Support
Repair Cafes
Vaccination Clinics 
Ukraine Connections
The impact of Libraries Unlocked on Droitwich Library and Stourport Library
Since June 2022, there has been a 56% increase in overall library visits and an 18% increase in overall library issues at the two libraries.
In the 12 months after Libraries Unlocked went live at Droitwich and Stourport Libraries we saw a 5.6% increase in active library members in the 11 to 15 age group and to a 22% increase in active library members in the 16 to 19 age group.
To encourage greater use of Libraries Unlocked by young people we plan to extend eligibility of Libraries Unlocked membership to include 15 year olds studying for GCSEs in Year 11.
Safety in Libraries Unlocked
The open library service model, on which Worcestershire's Libraries Unlocked service is based, is well-established in the UK public library sector and has proven to be a safe and effective way of extending community access to libraries since first being introduced in 2014.
Each library customer who wishes to sign up to Libraries Unlocked must undergo a face-to-face induction with the local library team before they can use the service. Safety and security procedures are clearly explained at this point.
Future planning
We have listened to customer concerns about using the library when staff are not present and have looked at good practice in other library authorities to identify a range of measures to promote customer safety during Libraries Unlocked opening hours.
We plan to introduce monitoring of Libraries Unlocked CCTV by Council Security between 5:00pm and 8:00pm, Monday to Friday and all day Saturday.