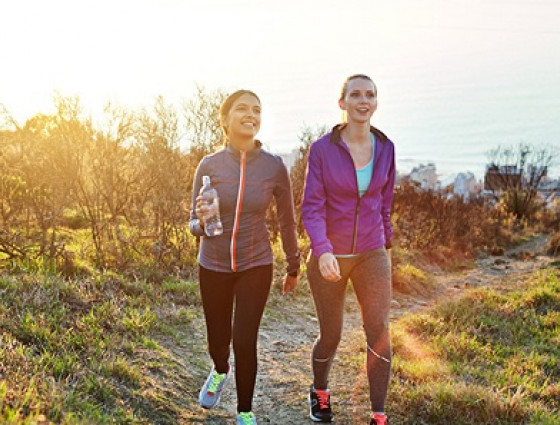 Worcestershire Health walks
Read about the benefits of walking, see suggested trails and routes.
What is a Health Walk?
A health walk is a short, purposeful walk undertaken on a regular basis. Walking at any speed can be beneficial and can improve health conditions and be good for the heart as well as improving levels of activity. As well as improving physical wellbeing our walks can help improve mental wellbeing by providing an opportunity to socialise and a distraction from everyday stress. 
Walkers are encouraged to walk at their own speed so they are comfortable and able to enjoy the walk. Walk groups offer alternate routes and distances to allow this to happen.
Worcestershire Health Walks aim to improve the county's health and well-being by encouraging more people to become physically active through the simplest form of exercise, walking. The scheme introduces walking through a series of local short group walks led by a trained volunteer walk leader for people with a low level of activity or a long-term health condition.
Our Health Walks are: 
free    
accessible, sociable and welcoming to all
held over easy terrain and accessible to different abilities
at least 10 minutes long and no longer than 90 minutes
start at the same time and place  
local and easily accessible by foot or local public transport
Some walking groups have a selection of walks from various locations, details of which can be provided by the walk leader. 
Finding a Health Walk
Alternatively, you can download the following documents:
For new walkers there is no need to book but we recommend you contact the walk leader beforehand. All new walkers are asked to complete a Worcestershire Health Walks Registration Form
Can't find a walk in your area? Or interested in becoming a walk leader? Then read on to find out about our Walk Leader Training.
Worcestershire Health Walk Leaders 
Without our dedicated volunteer walk leaders, we would not be able to run our health walks. All our volunteer health walk leaders are specifically trained to lead health walks in Worcestershire. Our training sessions help you to: 
understand the role of a walk leader
be clear about some practicalities of running a safe and enjoyable walk
know that walking is good for us all, and how to help others overcome barriers to joining a walk
gain the confidence needed to lead a health walk
meet each other, share ideas and trouble-shoot any concerns about walks
---
Useful links