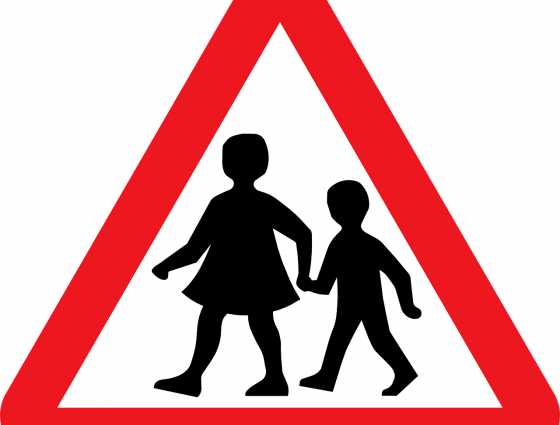 School Crossing Patrols
The School Crossing Patrol Service (also known as "lollipop men and women") provides a vital link to a safer journey to and from school for many children and adults in Worcestershire. The patrols are for Primary School children under the age of 11.
Advice for drivers
You can support a School Crossing Patrol by:
approach a school with caution
always be prepared to stop
stop if the School Crossing Patrol is in the road displaying the 'STOP' sign
stop a safe distance away from the crossing
do not proceed until the School Crossing Patrol has gone back to the pavement
allow enough space in heavy traffic to allow the patrol to operate safely
---
When driving near schools:
Drive slowly and be aware of young cyclists and pedestrians. In some places, there may be a flashing amber signal below the 'CHILDREN' warning sign, which tells you that there may be children crossing the road ahead. Drive very slowly until you are clear of the area.
You should always drive with caution near schools even if there is no crossing Patrol in operation.
Drivers must stop for School Crossing Patrols. It is an offence if you don't stop when signalled to do so by a School Crossing Patrol.
Advice for parents
Even if there is a School Crossing Patrol, it is the parents' responsibility to make sure their child is safe getting to and from school.
Here is some advice to help keep your child safe:
always stop and wait at the kerb
do not follow the patrol into the road
only cross when the patrol tells you to
always walk in front of the patrol
Get a job as a School Crossing Patrol
Would you like to join our team of dedicated School Crossing Patrols?
The role of a School Crossing Patrol or as they are more affectionately known, 'lollipop person', is a very rewarding one that is valued by the community.
If you would like to join our Team you could benefit from:
a good rate of pay
working term time only (38 weeks a year)
working outdoors
becoming a valued member of your community
If you feel that this is the job for you please check our current vacancies to see if there is a position available in your area.
How to request a School Crossing Patrol
Any request for a new School Crossing Patrol (SCP) must come from the Head Teacher of the school and have the support of the local elected Member.
Once a request is received, the crossing site will be checked using rules set out by Road Safety GB.
These rules include:
passing a risk assessment
meeting a pedestrian and vehicle count
other following factors may also be taken into account

ability to see clearly
junctions
speed of traffic
accident data
traffic flow
age of pedestrians
School Crossing Patrols will not be given to areas where there is already a crossing, in traffic calmed areas or on roads where speeds are faster than 35mph.
The possible penalties for failure to stop are:
a fine up to £1,000
three penalty points on your licence
disqualification from driving