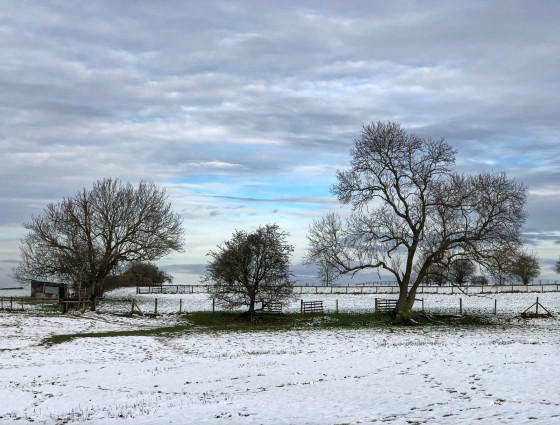 Winter weather advice
Information and advice during winter weather.
Follow us on Twitter
Our main Twitter account also allows us to communicate important messages. During snow and ice, it's often referred to as the 'Gritter Twitter'. To follow us, either visit or search for @worcscc on your Twitter application.
Prepare in advance
Here's a few hints and tips to get prepared for winter:
get your heating system and cooking appliances checked and keep your home well ventilated
fit draught proofing to seal any gaps around windows and doors
insulate your hot water cylinder and pipes
make sure you have adequate loft insulation. If you have cavity walls, make sure they are insulated too. Go to our Warmer Worcestershire pages for more information about home energy efficiency improvements
if you have an electric blanket, use it as instructed and get it tested every three years

never use a hot water bottle with an electric blanket

make sure you have spare medication in case you are unable to go out
if you are not on mains gas or electricity make sure you have a supply of heating oil, LPG or sold fuel so you do not run out in winter
stock up on tinned and frozen foods so you don't have to go out too much when it's cold or icy
make sure your shoes and slippers fit well and have good grips to avoid slips and trips
prepare your vehicle for winter, take a look at Met office advice on 6 simple checks to prepare your vehicle for winter and how to prepare a winter kit for your car
Keeping warm
heating your home to at least 18C in winter poses minimal risk to your health when you are wearing suitable clothing

if you can't heat all the rooms you use, heat the living room during the day and your bedroom just before you go to sleep
make sure you are claiming all the financial help you are entitled to, take a look at our Cost of Living pages.

check if you are eligible for inclusion on the priority services register operated by your water and power supplier
wear layers to trap air. Clothes made from cotton, wool or fleecy fibres help to maintain body heat
draw your curtains at dusk and tuck behind radiators to help keep heat inside
make sure your radiators are not obstructed by furniture or curtains
exercise is good for you all year round and it can keep you warm in winter

when indoors, try not to sit still for more than an hour
get up and stretch your legs
if walking is a problem, try moving your arms and legs whilst sitting or wiggling your fingers and toes

cover yourself with a blanket or shawl if you are sitting for long periods, this will help keep you warm

put your feet up if you can; the air may be colder near the floor

do not use a gas cooker or oven to heat your home; it is inefficient and there is a risk of carbon monoxide poisoning which can kill
have regular hot drinks and hot meals including five daily portions of fruit and vegetables, food is a vital source of energy and helps to keep your body warm
NHS Choices Keep Warm, Keep Well site has useful information about keeping warm, winter fuel and more. 
Roads
Gritting
We do our best to keep the highways network running as effectively as we can during periods of ice and snow, primarily by gritting a number of key routes.
Go to the gritting routes map.
Report a gritting, ice or snow issue.
A primary network of 1,300km is treated in the first instance, with a secondary network treated when conditions require it and when resources allow.
Please plan your journeys carefully when there is a risk of ice or snow. For more information visit Highways England
Driving in snow and ice
The best place to find advice about driving in severe weather conditions is the government's Direct Gov website. You can find information about planning journeys, making your journey and getting help if things go wrong on the Safety in extreme weather page. You can also see information on Worcestershire roadworks and road closures.
Website: GOV.UK website - Driving in Adverse Weather Conditions
Bus Services
Buses and bus routes can easily be effected by bad weather. Services effected will be published on the website homepage as well as further information published in more details on the bus service travel news web page.
Go to the Buses section.
Being a good neighbour
Please check on elderly neighbours or relatives, and:
make sure they are eating and drinking regular hot meals and drinks, perhaps make an extra portion for them next time you're preparing a meal
check that their cupboards are stocked, if not, offer to pick them up some groceries on your next visit to the supermarket
advise them to wear several layers of thin clothes rather than one layer of thick clothing, this keeps warm air trapped
make sure their heating is in good working order and turned on, the temperature of a room that most of their time spent in should be between 18 to 21 degrees Celsius
ensure they have a couple of thick blankets handy
give them your phone number and make sure it's in a handy place if they do need your help
Staying in the loop
The Cold Weather Alert operates in England from the 1 November to 31 March every year, in association with the UK Health Security Agency (UKHSA). The alerts give you advanced warning of adverse weather conditions that could have a significant effect on your health and well-being, enabling you to take extra precautions to keep safe and well.
Website: Cold Weather Alerts - Met Office
The best way to get the latest information about how winter weather conditions are affecting Worcestershire and the area where you live is to tune in to local radio stations. The following frequencies are for FM radios:
BBC Hereford & Worcester 96,104, 104.4
Free Radio 102.8
Heart 100.7
Signal 107
Touch 102.2
Youthcomm 106.7
Save them to your radio pre-sets now if you can, or keep them handy for when you need them.
School closures
It's very rare that we ask all schools to close because of severe weather - the decision about whether to remain open or not is predominantly taken by each individual school. For that reason, it can vary greatly from one part of the county to another.
Our website will include an alert whenever schools are affected by severe weather, which will be updated regularly with the latest information that schools provide to us (look our for alerts at the top of the website).
Go directly to the school closures section.
Another source of up-to-date information about school closures is the radio, above is a list of local radio stations to tune into.
County Council alerts
Alerts will show at the top our website in the alerts bar whenever important information needs to be communicated. Our alerts will be used to provide information about severe weather warnings, roads affected by snow and ice, school closures, library closures, museums, waste & recycling collections and disruption to public transport, among other things.