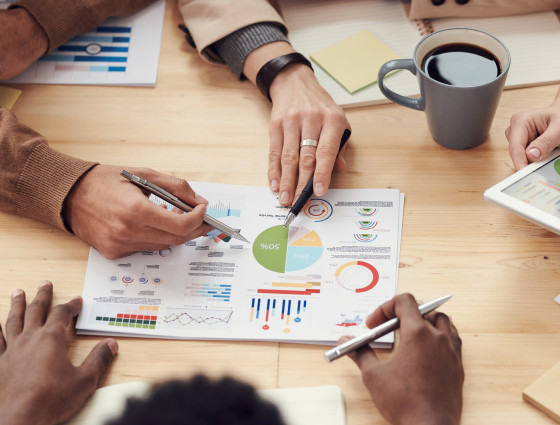 Elevate Worcestershire: Growth programme
Helping established businesses to scale and grow.

Unleash your business's potential with our bespoke growth support and grant!
The Elevate Growth programme is an exclusive and unique offer for established Small to Medium-sized Enterprises (SMEs) with growth ambitions to gain high quality, specialist support to reshape and grow their business, taking it to the next level.
What's on offer?
Through this programme, your business will gain:
Expert guidance: access valuable insights from our specialist consultants who have 25 years' experience scaling up businesses across a broad range of sectors. The team of international business experts will help your business to deliver growth, providing strategic expertise that enables your business to not just function but thrive.
One-to-one business coaching: Your business will receive a minimum of 7.5 hours of specialist support tailored to your aspirations and business growth potential, whether it's increasing revenue streams or targeting new markets, the specialists will work with you to identify the way forward and the business systems and processes required to achieve it. 
Peer support: Grow and learn through shared experiences by exploring key business challenges with like-minded business leader's, facilitated by our experts (7 hours).
An implementable Growth Plan: You will create an effective growth plan with clear actions covering key areas to help achieve your growth potential.
Extra support available: At the end of the core programme, there is an option to gain up to 5.5 hours of additional one-to-one support.
Grant funding: Throughout your programme you have the opportunity to apply for the Elevate Worcestershire Grant. A match funded grant from £2,500 to £10,000 is available to assist the implementation of your growth plan. 
Am I eligible?
To receive support through the programme, your business must:
be a SME*
be registered to an address in Worcester
be trading for less than 3 years
have at least 5 employees
be below the Subsidy Control threshold of £315,000 over the previous 3 years, including the value of the support received 
have a detailed growth plan
*The definition of an SME eligible for grant funding is as follows:
has fewer than 250 employees;
has either (a) an annual turnover not exceeding €50 million or (b) an annual balance sheet total not exceeding €43 million
25% or more of the capital or the voting rights are not owned by one enterprise, or jointly by several enterprises falling outside this definition of an SME
does not own more than 25% of the capital or voting rights in an enterprise falling outside of this definition of SME
Excluded sectors not eligible for support include:
Primary agriculture 
Schools
Public sector funded organisations
What topics will be explored?
The programme will cover:
benchmarking - against current sales processes and models, revenue, profitability, challenges and use of multi-faceted diagnostic tools
innovation - explore growth ideas and options
finance - current/forecast, propensity to grow, revenue and investment plans
management structure and teams - are the right people doing the right jobs with the right skills
systems - marketing, client interactions, has anything shifted and does it need to change
sales - how are current clients faring, is our offer still unique, opportunities in new vertical markets
sustainability - what must we have in place to sustain any future challenges
How this project is funded?
This project is part-funded by the UK government through the UK Shared Prosperity Fund and Worcestershire County Council.
The programme is managed and delivered by Worcestershire County Council on behalf of Bromsgrove District Council, Malvern Hills District Council, Redditch Borough Council, Worcester City Council, Wychavon District Council and Wyre Forest District Council.
The UK Shared Prosperity Fund is a central pillar of the UK government's Levelling Up agenda and provides £2.6 billion of funding for local investment by March 2025. The Fund aims to improve pride in place and increase life chances across the UK investing in communities and place, supporting local business, and people and skills. For more information, visit UK shared prosperity fund prospectus.
Grant funding
Established small to medium-sized enterprises (SMEs) based in Worcestershire that have accessed Elevate Worcestershire Growth Support, can potentially access between £2,500 and £10,000 in grant funding to fund growth projects.
Grants are awarded on a match-funded basis, meaning the SME will need to provide at least 60% of the total cost of the project. All grant applications are subject to a competitive process and are evaluated against programme and eligibility criteria by a grant appraisal panel. The amount available is subject to change.
The grant can be used to fund a variety of business activities, including, but not limited to:
machinery
equipment
further consultancy support
marketing and website development
relocation
external market research
What our clients say
Hear what one of our Elevate cohorts have said about the support provided through a previous programme.
JSC Rotational Ltd Case Study
Local business receives specialist growth support and sets itself apart from competitors after investing in a robotic arm to automate its manufacturing process.
View the full case study:
Business support case studies - JSC Rotational Ltd
Hugo Technology Case Study
Discover how the Elevate Worcestershire programme had helped Hugo Technology accelerate their growth.
View the full case study:
Business support case studies - Hugo Technology
Watch the video to learn more:
Hear how local businesses, RS Hydro and Central Scanning, have been supported on their growth journey through the Elevate Worcestershire Programme.