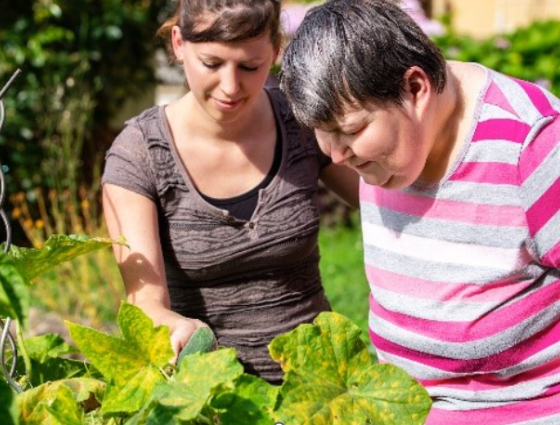 Learning disability day opportunities (Day centres)
For fun, friendships, activities, social experiences, healthcare support, physiotherapy, hydrotherapy, carer support and respite.

Day opportunities support individuals with complex Learning Disabilities, Physical needs, Mental Health, Autism and other related health and social care needs. 
We provide a range of support and assistance with personal care to general day-to-day support with all activities of daily living, emotional, psychological, practical, and social support with the aim of meeting the individual's chosen outcomes and promoting their independence. 
We have four centres located in:
Bromsgrove
Pershore
Worcester
Kidderminster
Who we support
Resource Centres are committed to a person-centred approach, in a safe and stimulating environment. We are trained and understand that each person is an individual with their own needs and preferences.
We aim to provide a high-quality service which is tailored to meet the individual requirements within our Service. 
We currently support individuals with a variety of needs which include
profound and multiple learning difficulties (PMLD)
multiple disability and visually impaired (MDVI)
support those that may challenge a Service
health care and complex needs
epilepsy
autism
individuals needing higher support needs including Personal Care, eating, drinking and medication
Some individuals are very mobile, some use wheelchairs or walking aids, so staff are highly trained in moving and handling.  
Individuals are supported to ensure they can participate in meaningful activities ensuring their days remain purposeful. We like to ensure our individuals engage in meaningful activities and enjoy engaging with the community, encouraging social inclusion, independence and quality of life.
 
Specialist Support
As part of an assessment/transition process the Team Leader/Seniors will meet with the person, their family/ carer and/or staff to find out their individual needs, wants and interests and understand how they prefer to communicate. 
This is completed during the transitional period where Staff will also meet the individual and their circle of support. If any bespoke training is required, this will be completed prior to their arrival by our very experienced staff team. 
The individual will be allocated a key worker and they will work closely with them, their family, and carers to create a Support Plan on how support is needed and how this would like to be delivered. 
This will incorporate health action plans, eating and drinking plans, medication, behaviour management plans, epilepsy plans and robust risk assessments.
We work in partnership with Speech and Language Therapists, Occupational Therapists, Physiotherapists, Community Nurses, Behaviour Team, and any other appropriate services that may be required. 
All Resource Centres have fully equipped personal care suites and rooms, Sensory rooms, activity rooms to which we offer specialist care and specialist equipment. During the day Staff will use a variety of communication systems to encourage communication such as facial, body, sign, and symbols.
We work closely with Health in regard to any specialist support required for example: PEG feeding, aspiration, physiotherapy exercises and stimulation, epilepsy and seizures and complex management of physical needs and wellbeing. 
 
Activities
All four resource centres offer a variety of person-centred activities. 
Some of which include:
Staff teams are creative and regularly change activities to cater for the needs of the individuals that access the service. We have monthly committee meetings with our individuals, so they help devise their own daily plans. 
Within our local communities
gyms
swimming pools
exercise classes 
pubs
shopping
libraries
walking groups
adult learning
Snoozelan
hydrotherapy
bowling
garden centres
museums
day trips to local attractions and parks
At the centres we offer
crafts
seated exercise
dance
cooking
sensory sessions
gardening
physiotherapy
healthy living
flower arranging
seasonal projects
computer sessions 
massage
recycling projects 
life skills 
The activities vary from centre to centre. This is due to what activities are offered in the local community and what each individual expresses a desire to participate in.
 
Carer Support and Respite
It is paramount we remain aware of the needs of our Carers. We work closely with parents, carers and families to ensure communication is a strong link to continuity of care. 
We continue to work closely with Worcestershire Association of Carers, Short Breaks, external Day Service providers and Transport providers supporting professional partnership working. 
Our looking after someone section has information, advice and guidance for carers
 
How to access Day Services
We only accept referrals from allocated Social Workers. 
If you are interested in our Day Services, contact your allocated Social Work Team to discuss the service we provide and whether Day Services may be right for you. 
If you do not currently receive support from Adult Social Care, find out more about what we do and how Adult Social Care can help. 
Alternatively, contact us for a discussion about your needs and whether Day Services may be right for you. 
Please Note: we do not accept referrals from individuals who have a Direct Payment. 
 
Safeguarding and Quality Assurance
Worcestershire County council has robust safeguarding policies and procedures in place.
Relevant documentation is collated and held on individuals to ensure all appropriate information is known, both current and historical on our electronic service user system to ensure risks are reduced and they are protected from potential abuse.
Any reports of abuse or adult vulnerability are taken seriously. They are reported, recorded and processes followed accordingly providing action as appropriate and prevention.
All staff attend training and complete competencies to demonstrate capability and understanding regarding preventative practice, the reporting and recording of concerns. 
Mental Capacity has an important role ensuring people have their say, understand choice and control.
Multi-disciplinary working also supports communication to aid professionals to monitor and safeguarding accordingly. 
For more information about Safeguarding please visit our Safeguarding and concerns about an adult page. 
Although WCC Day Services aren't currently registered with Care Quality Commission, we continue to provide clear auditing procedures, questionnaires and monitoring documentation to evidence compliance with CQC processes, guidelines and Key Lines of Enquiry in line with our registered services.