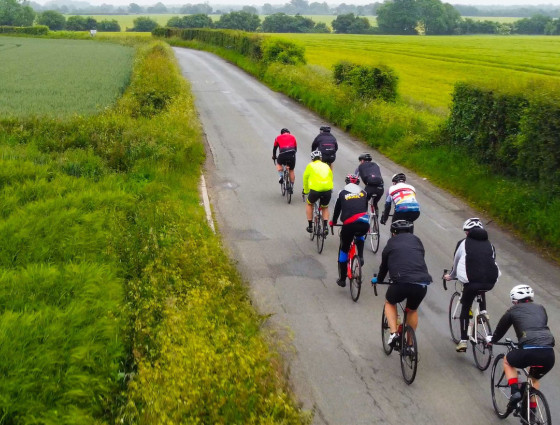 Safer cycling
Learn about safety precautions, bike storage and security recommendations and more.
Before you ride
To make your ride as enjoyable as possible, it's a good idea to carry out some simple bike checks before stepping on to the pedals:
Check that all your lights are working
Even during the day it may be necessary to use your lights if the weather is bad. Never cycle at night without lights.

A front lamp is required, showing white light. The lamp must be positioned centrally or slightly offside, up to 1500mm from the ground, aligned towards and visible from the front.
A rear lamp is required, coloured red, positioned centrally or slightly offside, between 350mm and 1500mm from the ground, aligned towards and visible from the rear. Any number of additional lights may be added providing they adhere to the conditions above.

Reflectors should be visible and clean

Rear reflectors are required by law on all bicycles.
Rear reflector should be coloured red, positioned centrally or slightly offside, between 350mm and 900mm from the ground, aligned towards and visible from the rear.
Pedal reflectors are required on all bicycles manufactured after 1st October 1985. Pedal reflectors should be coloured amber; four are recommended, positioned so that one is plainly visible to the front and rear of each panel.

Ensure the pressure of the tyres is correct
The safe tyre pressure for your bike should be marked on the tyre sidewall. Check the tyres for obvious marks, cuts, or excessive wear - never ride a bike with a damaged tyre.
Check your brakes
They should be aligned correctly to stop the bike. You must have separate working brakes on the front and rear of your bicycle. If not don't ride the bike until they have been adjusted properly. If in any doubt take your bike to a bike shop where they will be happy to help you.
Cycle helmets should comply with National Safety Standard BS 6658/1985 or equivalent. Ask for fitting advice when purchasing a new helmet and always replace your helmet after a knock as the impact could weaken the helmet.
Saddle height
A saddle should be adjusted so that you are able to cycle comfortably, when seated your feet should be able to touch the ground with approximately half your foot.
Clothing
When riding at night or in bad weather, cyclists are highly recommended to wear bright and reflective clothing
Cycle security
Bicycles can be attractive to thieves, so make sure you follow our simple tips to keep your bike safe!
---
Get a decent lock
It is essential that you invest in a good bike lock. Once you've purchased the lock, make sure you use it!
Leaving your bike unattended for even a minute could mean it's been stolen by the time you return. Lock it to something solid, preferably specialist cycle parking stands if they are available, in a visible and busy area.
---
Quick release - quickly gone
It is extremely easy for thieves to steal your saddle or wheels if they have quick release mechanisms. Think about replacing the quick release mechanisms with ordinary bolts or nuts which fit a spanner or Allen key if you are going to leave your bike in public spaces. Alternatively, think about purchasing special locking nuts which can only be undone with a specially designed version of an Allen key which is sold with the bolt.
---
Get it tagged
It's a good idea to security tag your bike so there is a full record on file should it be stolen. Not only will this help you to prove that it belongs to you if it is found stolen, but it could also be a requirement of your policy from your insurance company.
The following schemes are available locally:
Selectamark
This system enables individuals and companies to permanently and visibly mark their property by post coding or with a database phone number and unique reference number. West Mercia Constabulary hold various events throughout the year where Worcestershire residents can have their bicycle marked with Selectamark. Contact PC Ferreira on 08457 444 888 for more details.
SmartWater
SmartWater is a colourless liquid solution that is simply dabbed onto the uneven surfaces of your valuables. It cannot be easily seen by the naked eye and is almost impossible to remove. It can be used to code all sorts of household items and each bottle of liquid is unique to the purchaser. The liquid glows under ultraviolet light making it easy for the Police to detect. Visit the SmartWater website for more details.
Visit your local policing team
West Mercia constabulary will tag your bicycle using a tamper proof system for a small fee. Ask your local Community Support Officer or contact your local policing team for details: West Mercia Constabulary website. In addition to security tagging, it is good idea to store information such as make, model and frame number as these details are vital in helping the police build up an accurate picture of your stolen bike.
---
Get it insured
If your bike is already covered by your household insurance, make sure you check the small print. You may wish to purchase a separate insurance policy to avoid the large excess and strict requirements that apply to your household insurance policy. To satisfy any claims make sure you keep the receipt for your bike, or get written evaluation from a bike shop.
---
Report it
If your bike is stolen, report the theft to the police, even if you don't think that you will get your bike back. It is useful if you can provide as much detail about the bike such as type of bike, frame number etc. Think about creating a Cycle Passport so you always have these details to hand. Visit the West Mercia Constabulary website for details on how to contact the police. Once reported, make sure you get a crime reference number.
Cycling with Children
Cycling is the ideal way to spend time with your family, either as an organised family day out or as way of getting from A to B.
As well as being a good way of getting your child into the great outdoors, it also gives them a sense of independence and once they have mastered the art of cycling, they'll have years of enjoyment ahead of them.
---
Taking your child with you
Children can be introduced to cycling at an early age through the use of bike seats and trailers that attach to adult bikes. The following gives an overview of the products available:
Rear bike seats – Six months to three years (approximately) with a maximum weight of around 20kg. These seats are ideal for short trips around town and most styles now have high backs to support a child's posture.
Trailer – Six months to four or five years (approximately) with a maximum weight of around 30kg. These systems are very flexible and can sometimes double up as a buggy if the correct conversion kit is purchased.
Trailer bike – Four years to nine years (approximately) depending on size and weight of the child. This is a great way of getting your child involved at an early age and introduces them to some of the basic concepts of cycling.
Tandem – Some tandems allow children to pedal too, which is another great way of getting your child involved from an early age.
---
Learning to ride
When the time comes for your child to go it alone, try to buy a bike that is a suitable size for them. Purchasing a bike for your child to 'grow into' can set them back.
There are many different approaches that can be taken when teaching a child to ride a bike. Every child is different and should therefore be encouraged to develop at his or her own pace. Introduce the child to a Trike at an early age so they get used to the idea of movement. When they have mastered the trike, it is a good idea to move on to bike with no pedals so the child gets used to the idea of balance. Alternatively, a bike with stabilisers can be used.
Whatever method you use, take your child to an area that is large, open, fairly flat and has a surface that is firm and even.
Read the Sustrans guidance on cycle safety for children.
---
Bikeability Cycle Training
School children are now offered Bikeability cycle training during the academic year as this replaces the previous two-system approach including Bronze/Silver Cycle Proficiency and delivery of training via Cycle Experience.
Good cycling code
Whatever route you are on, be sure to follow this good cycling code:
---
Safe cycling:
Wear a helmet that fits snugly. Ask for fitting advice when you purchase a new helmet and always replace your helmet after a knock as the impact could weaken the helmet.
Check your bike is in good working order before you ride.
Cycling alone.
Although incidents of personal attacks are very rare, if you are cycling on your own, take the following precautions:

Plan your route so that you don't look lost
Carry a mobile phone and personal attack alarm with you
Stick to busy, well-lit places.
---
At night:
You will need a set of lights; this is the law. You will need a white light for the front and a red light for the rear.
Check they work before you set off each time and wipe the lenses clean to ensure they are as bright as they can be.
Wear reflective (Hi-Viz) clothing or strips and light clothing to make sure you can be seen in the dark.
Bike reflectors - it is illegal to cycle on the road during the period from sunset to sunrise without a back red reflector on your bike. It is also a requirement to have amber reflectors on the pedals.
Make sure that reflectors are clean so that other road users can see you.
We strongly recommend that you use white reflectors on both wheels (white and amber reflectors should come as standard on any bike bought after 1985).
If you use a dynamo light remember that if you stop the light stops too! A couple of small lights to compliment the dynamo will ensure that you are seen at traffic lights or when you are stationary.
Hazards - at night, animals, pedestrians dressed in black, and cyclists heading in the wrong direction with no lights might surprise you in the dark. Look for them carefully, and give them wide berth when you see them. Also remember that it's harder to see potholes in the dark!
---
On all routes:
Please be courteous.
Always cycle with respect for others using the route and thank those who give way to you.
---
On Shared-use Paths:
Give way to pedestrians, wheelchair users and horse riders leaving them plenty of room.
Fit a bell and use it so that people know you are there – don't surprise people.
---
When cycling on roads:
Always follow the Highway Code.
Do not cycle on pavements except where designated.
Use your bell to make your presence known.
Avoid riding up the inside of large vehicles, like lorries or buses, where you might not be seen