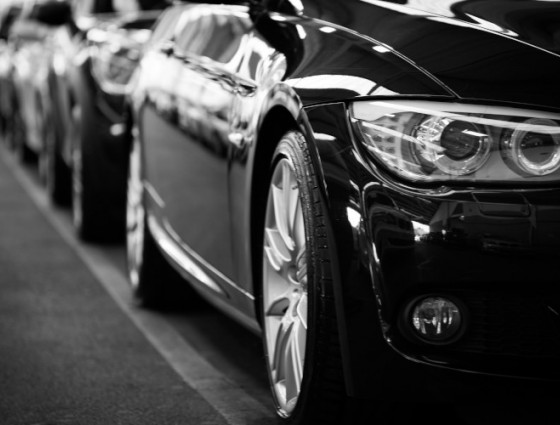 What is a Vehicular Dropped Kerb?
A Vehicular Dropped Kerb (also known as a Dropped Crossing) is constructed where you want to allow cars access to your property by lowering the kerb on a pavement or footway.
You will need approval from Worcestershire County Council (WCC) to do this work as it involves changing part of the public highway under section 184 of the Highways Act for which Worcestershire County Council is responsible.
Ringway Infrastructure Services (RIS) offer a service on behalf of Worcestershire County Council WCC to install Vehicular Dropped Crossings on the public highway. 
---
The process is as follows:
You familiarise yourself with the rules and standards for Vehicular Dropped Kerbs
You measure and assess if your property falls within the rules and standards for Dropped Kerbs
When you have all the information on the checklist, you can submit an online application
The application will be assessed by RIS, usually within 14 days
The application will be approved or rejected by WCC
If rejected, you will receive a full explanation of why this is the case and how to follow up
If approved, RIS will do a further assessment and provide a quote for the work
The work must be paid for up front, to ensure the proper arrangements to drop the kerb can be put in place
Installation of the Dropped Kerb should be within 6 weeks of payment being received. This is subject to available road space and straightforward traffic management. You will be advised of any delay and the reasoning behind it, should it occur
---
Apply
Vehicular Dropped Kerb application form
If you cannot apply online for any reason, email: worcestershirevehicle.crossing@ringway.co.uk
(Partially completed applications will be saved for 3 months if the user has created an account)
If you are unsure of the application process see "things to consider before applying for a Dropped Kerb" below.
Overview and cost 
A standard vehicular crossing for domestic use is comprised of 5 kerbs as per the detail to the right. We will also need to reconstruct the area of footway/ verge between the kerbs and the boundary of your property. Quotations are based on the prices below:
Item
Unit
Price
Kerbs
Each
£77.90
New construction

(domestic specification)

Per square metre
£133.84
Diagram 1.
A standard installation of 1.5 metres wide footpath/ verge with 5 kerbs would cost approx. £1307.99 plus VAT at current prices.
Please note: These costs relate to the installation of the crossing only. If there is a need to amend or alter additional items, such as utility covers, lamp posts, or street furniture, then these will incur additional costs.
(Prices valid for works completed by 31 March 2024 and are subject to VAT at current rate)
Things to consider before applying for a Dropped Kerb
Planning permission
Before we can proceed with your application, there are several considerations. Firstly, if your road is designated as a classified road (A, B, or C classification) then you will need planning permission from the relevant District Council.
If you're unsure whether your road is classified, you can check online at:
Searches and Adopted Roads: Classified and Unclassified Roads
then click the relevant District link to access the list of roads which are listed alphabetically.
Other things that need planning permission before you apply:
If you intend to make a change greater than 5 square metres to your front garden to accommodate a vehicle that involves changing the surface (for example removing a lawn, or other permeable surface and replacing it)
If the property is a multi-dwelling (i.e., flats / maisonettes etc)
If the property is in a conservation area
If the property is in a listed building
If you need to contact your District Council, they can be contacted below – We'll need evidence of your planning approval before we can proceed with any application:
Surface water drainage
You will need to plan to ensure water does not flow into the highway because of the dropped kerb. If this means you need to link to a surface water drainage system, then you will need planning permission for this. Advice can be found at planning portal.
Minimum requirements for the size of the garden/ frontage/ site
There are minimum size requirements for a Dropped Kerb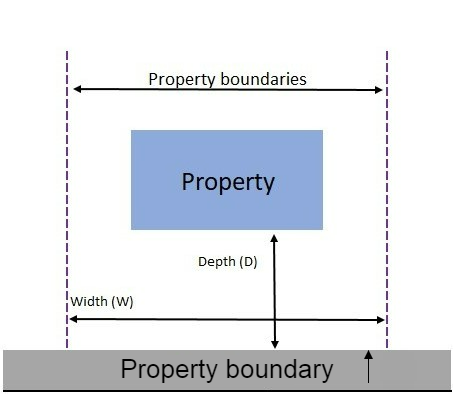 (Diagram 1)
If (D) is less than 4.8 metres, then (W) must be greater than 6.00 metres.
If (D) is greater than 4.8 metres, then (W) must be greater than 3.00 metres.
You must have an unimpeded Width (W) of 3 metres minimum and an unimpeded Depth (D) of 4.8 metres minimum. If the depth is less than 4.8 metres, but greater than 3 meters then the width must be a minimum of 6 meters, as shown in Diagram 1.
If your proposed parking area has steps up to your house, a protruding cellar light, or bay window, then you will need to take account of these when submitting your measurements as part of your application.
You should also consider whether there will be sufficient space to get in and out of the vehicle comfortably without the doors affecting the footway and a clear path to your front door.
The dropped crossing must be at least 15 metres from a junction.
Whilst we will make every attempt to accommodate the installation there are several situations where we will not grant permission. These relate to where the proposed access:
Cannot achieve the minimum visibility requirements
Affects a pedestrian crossing area, controlled or otherwise
Crosses a wide verge, or "amenity area"
Compromises a designated parking bay or layby area
Requires an amendment to a Traffic Regulation Order for example, school or controlled crossing zig zags, traffic calming measures, or limited waiting/residents parking bays)
Is higher than the road resulting in a slope greater than 8%
Affects, or is near a radius (where two roads meet, joined by a curve)or junction to another road
Where the supplied dimensions and physical restrictions to your frontage, suggest that the vehicle is to be parked parallel to the footway, requiring numerous manoeuvres to park the vehicle using the footway to do so. (see Diagram 2 below) Note. Parallel parking may be considered if the Width (W) of property is at least twice the required minimum as per Diagram 1 above.
We will also consider joint applications from 2 adjacent properties; however, these must be constructed simultaneously. (Each application must be submitted separately, preferably at the same time, with a note stating that it is a joint application with the relevant neighbours house number) You will need to complete all necessary groundworks to your frontages and supply evidence of this prior to the crossing being installed. Both of 8 and 9 will require additional Dropped Kerbs. 
Where the crossing will affect,or have an impact on highway trees.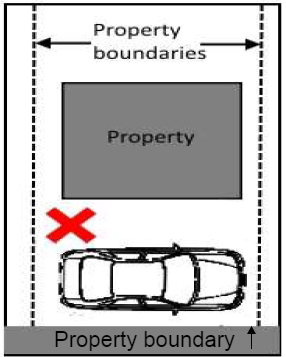 (Diagram 2)
The parking shown to the left is not supported, unless the property width exceeds 6 metres and the depth exceeds 3 metres.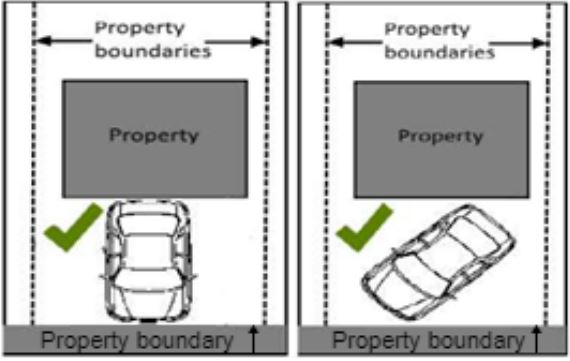 (Diagram 3)
The two types of parking shown to the left are fully supported. The parked vehicle must not encroach onto the footway. Where gates are to be installed, these must open inwards and you should therefore allow additional Depth (D) for this operation. Similarly where the access serves a garage, you must make allowances for the doors.
Visibility for the Dropped Kerb
There needs to be a good level of visibility at the site of the dropped kerb and you will have to answer the following questions:
Can vehicles and pedestrians be seen clearly in both directions?
Is the ground reasonably level?
Is the area clear of:

Highway trees within 1 metre of the crossing?
Street Furniture, such as post-boxes and bollards
Streetlights
Parking Restrictions
Utility Covers such as manholes
Checklist of what you will need to apply:
Proof of permission from the property owner to carry out the works, if you are not the owner
Planning permission documents, if you need it for any of the reasons above
Photographs of the site to include:
One photograph showing the proposed location of the crossing
At least 3 photographs of the property frontage, back and sides, depending on where the crossing is to be sited
A drawing of the site-detailed with dimensions
Measurement of depth and width of the site, as per Diagram 1