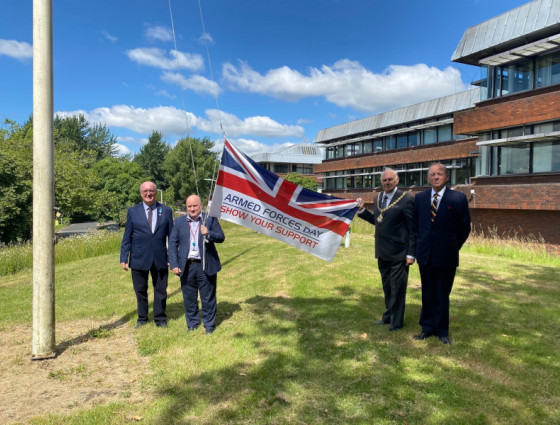 About the Worcestershire Armed Forces Covenant
Ensuring those who serve or who have served in the Armed Forces, and their families, are treated fairly.
Worcestershire signed the Armed Forces Covenant in 2012 and is committed to ensure that those who serve or who have served in the Armed Forces, and their families, are treated fairly. The Worcestershire Armed Forces Covenant Partnership works collaboratively to strengthen local delivery of the Covenant, and in particular, to support Worcestershire veterans who are experiencing problems either in transition or future years.
The Partnership represents the public sector, charitable and voluntary sector, council members (Armed Forces Champions representing Worcestershire's six District Councils), public health, police, and the regional Army Welfare team. The main aims of the Partnership are:
to foster collaboration and integration between the Armed Forces and civilian communities and make it easier for service personnel, families and veterans to access help and support available from statutory providers and from the charitable and voluntary sector
to implement a framework to gain a better understand of local issues in relation to members of the Armed Forces Community
to prioritise and address key areas of need, driven by an Action Plan
to raise awareness of the Armed Forces Covenant to wider stakeholders such as employers, the business community and local communities
Worcestershire's Armed Forces Covenant is facilitated by Worcestershire County Council as part of their ongoing commitment to the Armed Forces. Worcestershire County Council signed the Armed Forces Covenant as a dedicated forces-friendly organisation in November 2020 and achieved ERS Silver in 2023 extending their to support the armed forces, including existing or prospective employees who are members of the community.

The Partnership is chaired by Cllr Richard Morris.
Armed Forces Champions
Each District Council has an elected Armed Forces Champion who acts as a positive focus for their local community:
Cllr Pat Agar, Worcester City Council
Cllr Alex Fogg, Redditch District Council
Cllr Kevin Gale, Wyre Forest District Council (Kidderminster, Stourport-on-Severn and Bewdley)
Cllr Alan Sutton, Wyre Forest District Council (Kidderminster, Stourport-on-Severn and Bewdley)
Cllr Rob Adams, Wychavon District Council (Droitwich Spa, Evesham and Pershore)
Cllr Natalie McVey, Malvern Hills District Council (Malvern, Tenbury Wells and Upton-upon-Severn)
Cllr Peter Walker, Cabinet Member for Communities (Bromsgrove District Council)
Cllr Richard Morris, Worcestershire County Council (Chairman of Worcestershire's Armed Forces Covenant Partnership)