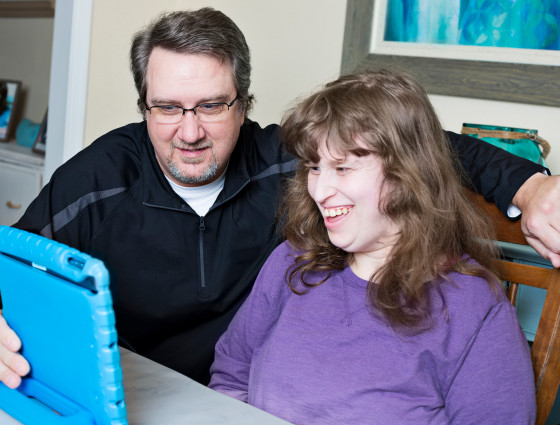 Improving care for people with Learning Disabilities and Autism Spectrum Disorder
Information and support on how to get on the Learning Disability Register, this will help you to get extra support when you visit the doctors.
If you have a learning disability you may be able to get extra support when you visit your doctor's surgery. You need to ask to be on the surgery's Learning Disability Register, anyone of any age, and any level of learning disability can join the register, even if you live independently and have little or no support. 
If you are a parent or carer of a child or young person with a learning disability you can ask for them to be put on the register.
Mencap have worked with NHS England to develop guides to explain about the register, you can find them by visiting: Extra support people with a learning disability can get at the doctors | Mencap.
By being on the Learning Disability Register you will get extra support when you visit the doctors and could receive an Annual Health Check once you are 14 years old. An Annual Health Check is done by your doctor once a year and you don't have to be ill to have one. Your doctor will check to see how you are doing to make sure you're healthy and you can ask questions and talk about anything that hurts or is worrying you.
You can find leaflets and videos about Annual Health Checks here:
Don't Miss Out - Annual Health Checks Mencap.
Transforming Care
'Transforming Care' is NHS England's commitment to improving the care of people with Learning Disabilities, and/or Autism Spectrum Disorder (ASD). It seeks to reduce people being admitted to hospital when they don't need to be, and encourage early and effective planning to help people leave hospital. The key processes are:
Care, Education and Treatment Reviews (CETR's)
CETR's bring together those responsible for caring for the child or young person (this might include nurses, social workers, education commissioners, health, education and other professionals) with independent clinical opinion and the experience of people from communities with learning disabilities, autism or both. A CETR seeks to ensure the care, treatment and differing support needs of the person and their families are met, and that barriers to getting support are challenged.
For children and young people, there are often lots of professionals and agencies already working with them due to them having education and care needs before any mental health or other crisis may develop. Children and young people with learning disabilities, or autism, may have an Education, Health and Care plan (EHCP), or receive SEN (Special Educational Needs) support in school.
Dynamic Support Register (DSR)
When planning to provide care there might be some concerns that are raised about increasing risks of a child or young person not being safe. In these cases they can be reported to the responsible commissioner to ensure they are highlighted within the DSR. This helps young people, parents/carers, and professionals to work together and may include thinking about whether there is a need for a Community CETR. The aim is to report concerns early enough that actions are taken to reduce the risk of children or young people going in to hospital.
 
Informed consent is required for inclusion on the DSR, or a CETR request.