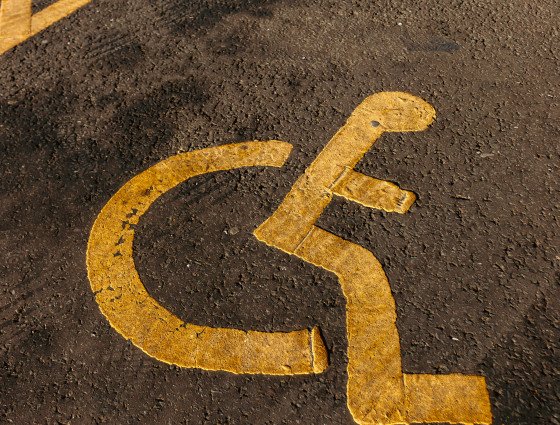 Disabled parking spaces in Worcester
See Worcester city centre disabled parking spaces, apply for a new space, find out where else Blue Badge holders can park.
Worcester City parking details can be found on the Worcester City Council website 
Additional Blue Badge rights
Disabled badge holders can also park on double yellow lines for up to 3 hours provided there is no loading ban in place (as indicated by kerb blips) and vehicles are not parked obstructively.
Disabled badge holders are also exempt from time restrictions in on-street limited waiting bays.
---
Off-street Parking Spaces
Free parking for disabled badge holders is available in all car parks operated by Worcester City Council (except Cornmarket). Find out more information on the Worcester City Council website.
Apply for a disabled parking space
Please note
we will normally only approve a bay where there is a known parking issue
after surveying the site, it may be found that a bay cannot be marked due to existing parking restrictions, road safety or traffic management issues; we can also only mark bays when we have the staff and resources available
you should be aware that creation of a disabled parking space involves a formal legislative process, which will take at least six months to complete, after approval of your application
all the disabled persons' parking spaces can be used by any blue badge holder
---
Check your eligibility
1. You must be a blue badge holder and in receipt of one of the following benefits:
Higher rate of mobility component of Disability Living Allowance
Enhanced rate of PIP re mobility
Higher rate of Attendance Allowance and have a letter from a medical practitioner confirming that you would meet the Department for Work and Pensions criteria for the higher rate of mobility component of DLA
Please note that children under three are not eligible for mobility benefits. Applications on their behalf will be considered on their individual merits. Evidence of receipt of the middle or higher rates of the care component of DLA / PIP and a supporting letter from a medical practitioner must be provided.
2. You must be the driver, or regular passenger, of the vehicle the space is needed for.
3. The vehicle should be registered at your property.
4. There must be no off-street parking available at or near your property nor the scope to create off-street parking within your property boundary.
ShopMobility
Crowngate Shopping Centre has a specialist service called Worcester ShopMobility that has a wide variety of scooters and wheel chairs for daily hire. Worcester ShopMobility can be located on Level Six of the Crowngate multistorey car park or can be contacted on 01905 610523. Find out more information at Crowngate Shopping centre.