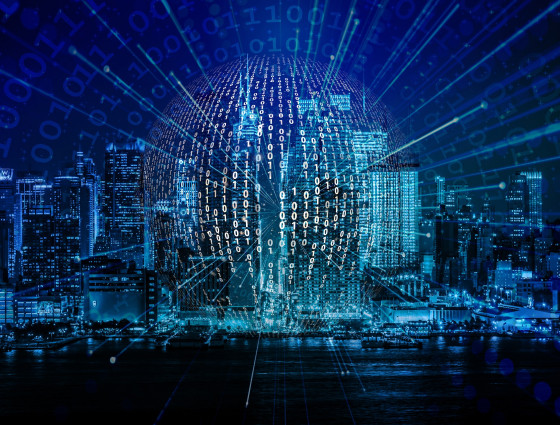 Digital Connectivity Worcestershire
Fundamental to achieving the vision set out in the Worcestershire County Council's 2021 – 2023 Digital Strategy and underpinning the Key Priorities of the Council, in particular Open for Business, is the need to have fixed and mobile infrastructure that holds digital connectivity in place across the County.
A digitally connected Worcestershire will streamline the delivery of services, so they are provided in the most efficient and cost-effective way possible. It will also ensure the County remains an attractive and productive place to live, work and invest.
How we are doing
98.29%* of premises have access to Superfast speeds

43.21%* of premises have access to Fibre to the Premises

62.61%* of premises with access to Gigabit capable infrastructure

£7.26m value of Rural Gigabit Connectivity vouchers secured

Source: * figures from thinkbroadband.com, correct as of May 2023
These sections below provide information on the programmes and projects that focus on the deployment of digital infrastructure, how residents and businesses are supported to access the improved infrastructure and research into leading edge technologies for the benefit of everyone
Digital Connectivity News
DCMS's Worcestershire Broadband Public Review update - August 2022
As part of government's ambition to deliver nationwide gigabit-capable broadband as soon as possible, supported by a commitment of £5 billion for the hardest to reach parts of the country, the Department for Digital, Culture, Media & Sport (DCMS) has been working with industry to understand the areas that will be commercially built into over the next three years and those that will not.
The work of identifying these non-commercially viable areas has been completed, via the Open Market Review (OMR) and Public Review (PR) stages, and the results can be found on GOV.UK
4 February 2022
Project Gigabit - Public Review Launch in Worcestershire
The government is on a mission to deliver lightning-fast, reliable broadband to everyone in the UK and is investing £5 billion in Project Gigabit to ensure that hard-to-reach communities are not left out. Building Digital UK (BDUK) is carrying out a Public Review to help identify areas in Worcestershire that may be suitable for future public funding for gigabit-capable broadband.
BDUK is seeking information and supporting evidence from suppliers - in relation to the presence of gigabit-capable broadband infrastructure within the project area.
They wish to hear from all relevant stakeholders - including the public, businesses, internet service providers and broadband infrastructure operators - particularly in relation to the proposed mapped eligible areas.
This Public Review opens on 4 February 2022 and closes 4 March 2022.
To respond to this Public Review, and for more information, please go to BDUK's page.
Superfast Worcestershire Programme - Autumn 2021
"I'm proud to be representing Worcestershire County Council as the newly elected Cabinet Member with Responsibility for Economy and Skills, an area that includes digital connectivity across the county. 
I am delighted that our Superfast Worcestershire programme now ensures that 97.61% of residential and business premises can connect to a superfast broadband service. This is a fantastic achievement, and it has made a real difference to our communities. Allowing people to work, access education and services from home and connecting business sites, is fundamental to the success of Worcestershire and post-coronavirus Britain.
With the County Council's continued commitment, the future is looking bright with even more being done to improve connectivity across Worcestershire. Exciting initiatives via commercial programmes, community voucher schemes and the Government's Project Gigabit will ensure our network infrastructure is robust at a time when connectivity has never been so important.''
Councillor Marc Bayliss, Cabinet Member with Responsibility for Economy and Skills.
September 2021
Droitwich homes and businesses set to benefit from Broadband upgrade
Thousands of homes and businesses in Droitwich will get access to some of the fastest broadband speeds as part of a national drive to level up internet access across the UK.
Worcestershire County Council has welcomed the start of Fullfibre's investment to deliver lightning-fast, reliable broadband to Droitwich.
Commercial investments such as these are an important part of a national drive to improve Gigabit (1000Mpbs) capable broadband infrastructure across the country, ensuring that smaller towns are not left out
Councillor Marc Bayliss, Worcestershire County Council Cabinet Member with Responsibility for Economy and Skills, said: 
"While faster broadband connections are being successfully rolled out across the county, there can still be an issue in smaller towns and rural areas, so we welcome this investment by Fullfibre. I am delighted that connectivity across Droitwich will now be significantly improved to future proof its network infrastructure. This will make a real difference to residents and businesses in the town, at a time when access to the internet has never been so important."
The Fullfibre programme to upgrade digital infrastructure in Droitwich will accelerate the country's recovery from COVID-19, fire up high-growth sectors such as tech and the creative industries, put an end to families battling for bandwidth and bring the speed and reliability people need to start and run businesses.
Supercharging the available bandwidth in Droitwich will enable speeds up to 10 Gbps (the equivalent of 10,000 Mbps). The build has started, and most premises will be able to access their gigabit internet services by summer 2022. 
"Full Fibre recognises the national necessity for both residents and businesses to upgrade to ultrafast fibre services if they are to embrace modern digital services and educational tools. Droitwich is currently restricted to ageing copper connections, not meeting the needs of modern, homeworking families.  It's vital that everyone in a community gets access to ultrafast, reliable services and the opportunities that come with it." said Fullfibre CEO, Oliver Helm.
Superfast Worcestershire Programme Update - September 2021
Programme Update for the Superfast Worcestershire Programme
97.65 of premises have access to superfast speeds
41.07 of premises have access to Gigabit infrastructure
16.64 of premises have access to Fibre to the Premises
£4.3m is the value of the Rural Gigabit Connectivity Vouchers
Superfast Worcestershire continues to work with commercial broadband operators deploying within Worcestershire and over the past few months there have been several key investment announcements for Worcestershire from:
Openreach - a further 45,000 premises for full fibre within Worcestershire (May 2021)
The areas served by the 19 exchanges are Badsey, Belbroughton, Bewdley, Blakedown, Bredon, Broadway, Cropthorne, Droitwich, Hanley Swan, Harvington, Leigh Sinton, Pershore, Powick, Romsley, Stourport, Tenbury Wells, Upton Upon Severn, Wolverley, Wychbold
Airband – are working with several Community Projects within Worcestershire to deliver gigabit connectivity (June 2021) 
Areas which are being considered include Upton Upon Severn, Ryall, Tenbury Wells, Pershore, Wick, Eckington, Cropthorne, Fladbury, Lower and Great Comberton, Elmley Castle and Bricklehampton, as well as Welland and Earl's Croome
FullFibre – full fibre to 100,000 premises across 11 rural and semi-urban areas, including two within Worcestershire – Droitwich and Stourport-on-Severn (March 2021)
CityFibre - £21m full fibre rollout around Worcester City, which includes Hallow, Rushwick, Fernhill Heath and Norton, that started June (June 2021)
s well as the success of supporting business and communities to secure £4.3m of funding through previous DCMS Gigabit Voucher Schemes, Worcestershire County Council are currently supporting several Community Partnership schemes who have submitted their deployment proposals for consideration and are still awaiting confirmation of support funding. Once agreed we will announce them in future editions of this newsletter. 
If you are considering setting up a community scheme for your area, please visit our Superfast Worcestershire website window) for further information about current schemes and if you require support please contact Superfast Worcestershire at Superfast@worcestershire.gov.uk.
You can also keep up to date with information and announcements around broadband news and the wider connectivity agenda through our social media channels on Facebook and Twitter.
Our vision: a digitally connected Worcestershire
Worcestershire County Council's 2021 – 2023 Digital Strategy states "We will use modern technologies to enable digital opportunity, fundamentally improving how our customers and communities. Streamlining the delivery of our services so they can be provided in the most efficient and cost-effective way possible."
To achieve this vision, fixed and mobile infrastructure that underpins digital connectivity needs to be in place across the county. Worcestershire County Council is supporting the deployment of 'gigabit' (1000mpbs) capable broadband infrastructure across as much of the county as possible, whilst supporting all properties having access to at least 10Mbps download speeds.
For mobile networks Worcestershire County Council supports the government's and mobile industry's ambitions to improve geographic coverage and discuss performance issues in the county with the operators. Worcestershire County Council also explore the opportunities on the leading edge of connectivity such as the benefits that new technologies e.g. 5G, Wi Fi 6, Multi-Access Edge Compute (MEC) and Narrow Band Internet of Things (NB-IOT) can bring.
These telecommunications networks and technologies will not only provide better access to our improved online services, but also support communities and local businesses with their digital connectivity requirements at work, at home and out and about both today and in the future.
Worcestershire County Council is now focussed on improving digital connectivity for the county's residents and businesses through:
Supporting the Government Agenda for 85% Gigabit capable broadband by the end of 2025, by accelerating past the national average figure for Gigabit capable broadband and remaining ahead of it. This will be achieved by:
working with broadband infrastructure providers to commercially invest in Worcestershire and supporting them to do so
engaging with BDUK's Gigabit investment programme
highlighting the availability of BDUK's Gigabit Broadband Voucher Scheme and supporting community led schemes and
working internally and with partners so that the right policies and practices are in place in regards planning, working in the highway and collaboration with other physical infrastructure projects
Communicating with residents and businesses that receive less than 10Mbps download speed and are not in a Gigabit capable plan that they can demand an improved service through the UK's Broadband Universal Service Obligation (USO) provided by BT
Being at the forefront of digital connectivity innovation, seeking to understand and explore new connected technologies and how they can benefit the county's residents, businesses, and our public services e.g. Worcestershire 5G and West Mercia Rural 5G.
Background: connecting Worcestershire since 2012
Digital Connectivity Worcestershire
Background: connecting Worcestershire since 2012
In 2012 Worcestershire County Council, with the support of the Department for Culture, Media and Sport (DCMS) and Broadband Delivery UK (BDUK), started on an ambitious programme to implement a multi-million pound superfast broadband network for the county.
The original objectives were that everyone in the County would have access to broadband speeds of at least 2Mbps; and that superfast broadband would be available to 90% of the County both homes and businesses by 2016.
By improving the connectivity of residents, through the most appropriate technologies such as wireless, mobile and fibre, Worcestershire County Council will enable residents to improve their quality of life and provide economic opportunities and growth.
Understanding the range of communities within the County from rural areas to urban towns, meant that there were significant challenges to ensure digital inclusion for all and that rural areas were not left behind.
Over the years the programme has continued to keep pace with increasing reliance of residents and businesses on connectivity and services provided. Residents are increasingly using on-demand services and video streaming within the home, homeworking requiring access to cloud services as well as businesses setting up in rural areas. Connectivity requirements have also become more mobile as technology improves and services are provided in the wider community.
This has meant that Worcestershire County Council has continually reviewed and evaluated the current position. As the digital landscape has changed the council has invested further capital to the programme as well as gaining grants from BDUK to ensure that it meets its digital vision and that of government.
As part of the further investments, Worcestershire County Council ran several Open Market Reviews (OMRs). While not a specific requirement under the European Commission's Broadband Guidelines or the National Broadband Scheme, an OMR enables early market engagement and assists the council with understanding the broadband infrastructure already in place across Worcestershire. An OMR also provides information around planned investment in the broadband infrastructure in the coming three years by broadband providers. This research provided Worcestershire County Council with a better understanding of the design of supplier intervention areas, the areas it can support the delivery of high-speed broadband. OMRs are run before the State Aid Public Consultation stage on the proposed intervention areas, ensuring the additional public funding is used to target areas of failure, with no planned provision.
Current consultation(s)
BDUK's UK Gigabit Programme is launched in phased contracts to those hard to reach parts of the UK that will need government support towards the cost of gigabit-capable broadband – further information can be viewed at BDUK's site.
Worcestershire are within Phase 1b and the Open Market Review is now closed, and a Public Consultation will start soon.
Closed consultation(s)
2021 – Open Market Review – closed
2016 – Public Consultation: Connecting Worcestershire (contract 3)
2015 – Open Market Review – closed
2014 – Public Consultation: Connecting Worcestershire (contract 2)
2014 – Open Market Review – closed
2013 – Public Consultation: Superfast Worcestershire (contract 1)
2013 – Open Market review – closed
2012 – Worcestershire Local Broadband Plan: Connecting Worcestershire
2012 – Community Pathfinder Project with Airband
Superfast Worcestershire
Worcestershire County Council has been working with partner organisations prior to and since the launch of the first Local Broadband Plan in May 2012.
This plan set out an ambition to provide 90% of business and residential premises with Superfast (24Mbps+) broadband. Over the years the project has delivered on its ever-increasing coverage targets. However, the way in which consumers use broadband has changed as people become more dependent on high speed and increasingly reliable connections for work and for pleasure. This has meant that Worcestershire County Council has both reinvested funding and secured further funding into the programme to transform the broadband network across Worcestershire, especially in hard to reach areas in line with the UK Government's "Outside-in" approach. 
The Superfast Worcestershire website was created to keep the communities of Worcestershire up to date with this ambitious deployment plan. Within this website you can find information on the programme including interactive maps, lists of latest deployment of structures, latest news, and potential grant support through voucher schemes. 
Nationally and locally the focus has shifted to enabling deployment of Gigabit capable (1000Mbps) infrastructure as identified on our Digitally Connected Worcestershire vision. However, Worcestershire County Council remain focused on ensuring nobody is left behind on less than 10Mbps download speeds. 
"The UK Gigabit Programme or 'Project Gigabit' is a £5 billion government infrastructure project that brings together everything the government is doing to enable and deliver fast and reliable digital connectivity for the entire country. Through one of the fastest rollouts in Europe, 60% of households will have access to gigabit speeds by the end of 2021 - a huge leap from 2019 when it was just one in ten." – GOV.UK
As part of this programme BDUK is launching phased contracts to those hard to reach parts of the UK that will need government support towards the cost of gigabit-capable broadband. Worcestershire is part of Phase 1b deployment which aims to connect a total of 640,000 premises across the six Phase 1b locations.
Worcestershire 5G testbed
Background
Worcestershire has been chosen by Central Government as the home of a new 5G Testbed, putting the county at the forefront of technological innovation.
The Worcestershire 5G Consortium will begin the country's most comprehensive industrial 5G Testbed trial with a team of 5G specialists and business experts pioneering the concept of 'Industry 4.0'.
Latest updates
20 February 2020
5G will help to continue the progress and development of technological innovation for Health services and Adult Social Care in parts of rural Worcestershire.
The West Mercia Rural 5G project, testing and trialling the benefits of 5G in rural areas, will launch on the 1st April, following a successful bid which was led by Worcestershire County Council.
The Department for Digital, Culture, Media and Sport (DCMS) has today announced the award of £3.3m to Worcestershire County Council who will be the lead partner for the project.
Other partners in the project include local NHS organisations, alongside Airband and Three - who will plan, build and operate the 5G network. Shropshire Council is also a partner in the project.
18 April 2019
The Worcestershire 5G Consortium has won Most Commercially Viable Use Case at the inaugural 5G Realised 'Use Case Awards'.
The Consortium, led by Worcestershire County Council and the Worcestershire LEP picked up the award at the recent 5G Realised Event.
The Consortium recently announced the switch on of the UK's first-ever 5G live factory trials, with locally based companies Worcester Bosch, Yamazaki Mazak and QinetiQ taking part to test end-to-end application performance, taking initial measures of 5G speeds and latency.
15 February 2019
The Worcestershire 5G consortium, led by the County Council and Worcestershire LEP launched the first-ever British 5G factory trials at the Worcester Bosch factory earlier this week.
The switch on, which took place at Worcester Bosch, allows the UK to strive firmly ahead of its European peers in the race for 5G, and through the collaboration of partners, Worcestershire will be at the heart of the technological advance.
Broadband: complementary schemes
The Superfast Worcestershire Partnership is working to bring superfast broadband connectivity to 97% of homes and businesses in Worcestershire by Summer 2021. Whilst great progress has already been made and superfast speeds are available to over 97.5% of Worcestershire premises, areas without access to superfast speeds still remain.
For those in the remaining 2.5%, there are several funding schemes available, aimed at supporting communities and businesses.
Summary of the schemes:
New UK Gigabit Voucher Scheme launched by the UK Government
As part of the wider £5bn Project Gigabit programme the UK Government started a new rural focused £210m gigabit Broadband Voucher Scheme on the 8th April 2021. This additional investment in the Voucher Scheme will continue supporting the cost of installing faster and more reliable full fibre broadband connections for small to medium sized business and the local communities around them.
In this follow-on scheme the eligibility criteria has been narrowed so that only those premises in the remotest areas are eligible, using Ofcom's Area 3: Non-Competitive Areas criteria where Openreach is the only operator providing large-scale network.
With the increase in use of cloud-based services, streamed services, voice and video conferencing and cyber security measures that was predicted for 2020, the move to homeworking for many has made this even more important. Gigabit capable connections will allow users to increase download and upload speeds according to their home needs but more and more around working from home. This huge leap in connection speeds has benefited those already on full fibre but through this voucher scheme will widen the benefits for you and your business into the future.
Each eligible business can claim up to £3,500 against the cost of connection either individually or as part of a group project. Residents can claim a voucher worth £1,500 as part of a group project. (Group projects must have a ratio of 1 business to 10 residential premises.)
For full details about whether you are eligible for a voucher and to connect you to a full fibre broadband supplier, go to the UK Government Gigabit Broadband Voucher Scheme website
As of May 2021, DCMS data shows that the UK Government has allocated £159.2m of support through the voucher schemes throughout the UK. So, if you'd like to give your business and community a faster connection, don't delay!
For more information on how the process works visit the Superfast Worcestershire website and read FAQ28
Broadband Universal Service Obligation (USO)
The new USO is a UK-wide measure, intended to fill the gap left by the UK Government's existing broadband roll-out programs, to deliver broadband connections to the hardest to reach premises in the UK. Ofcom reported that as of May 2017, 1.1 million premises (4%) in the UK would qualify for the USO.
At present around 97.5% of the UK (and Worcestershire) can already order a fixed "superfast broadband" (24Mbps+) connection and by the end of 2021 this is expected to reach around 98%, which means that the new USO will be primarily focused upon helping to cater for those in the final 2%; estimated to be somewhere around 300,000 to 500,000 premises nationwide in 2021.
The USO is being delivered by Ofcom (with BT and KCOM as appointed suppliers on the scheme), and customers have been able to request a USO connection since March 2020. The USO will give UK households and businesses currently receiving less than 10Mbps download and not due to receive a service from a publicly-funded roll out programme, the right to request a decent broadband connection of at least 10Mbps (download) and 1Mbps (upload) up to the installation cost of £3400. Where costs are over £3400, consumers will be required to contribute the excess costs or do some of the work themselves.
Recently, BT (the nominated supplier for Worcestershire) have written to all eligible Worcestershire premises to make them aware of the scheme and how to progress individual requests. 
More information can be found at Ofcom's Broadband USO Need to Know and on BT's USO page.
Future funding and Community Pathfinder Project with Airband
future funding: Worcestershire County Council is constantly exploring opportunities to provide access to improved broadband in all parts of Worcestershire. Current investigations include opportunities through DEFRA and Local Full Fibre Networks at DCMS. Please register with Superfast Worcestershire to be kept up to date. Alternatively, "How to obtain a better service when superfast broadband isn't available to you guide is also available describing currently available solutions.
Community Pathfinder Project with Airband: alongside the Superfast Worcestershire Partnership with BT, Worcestershire County Council identified additional funding for Pathfinder Community Projects in 2012/13. As a result, three communities were successful in their bids for funding from the County Council to provide access to faster Broadband in their areas; further information on Pathfinder Projects
supporting commercial operators in Worcestershire': Worcestershire County Council continue to work with commercial operators to ensure Worcestershire is an appealing place to invest and operate.
working with mobile operators: Worcestershire County Council recognise the importance of mobile phone connectivity in and around the county, acknowledging that existing 2G, 3G and 4G services can be improved across the county; whether that be improving coverage or optimising the network when it is available.  Worcestershire County Council and Worcestershire LEP worked with supplier AWTG to undertake a series of drive and static trials in the spring of 2017 and 2019. Having understood the outcome of these trials the Council has engaged with the four major mobile network operators EE, 02, Three and Vodafone; working with them to understand and overcome challenges locally. These conversations have delivered positive responses in the County, with optimisation taking place and new sites being investigated. All four operators continue positive engagement with us, and we welcome their ongoing support.