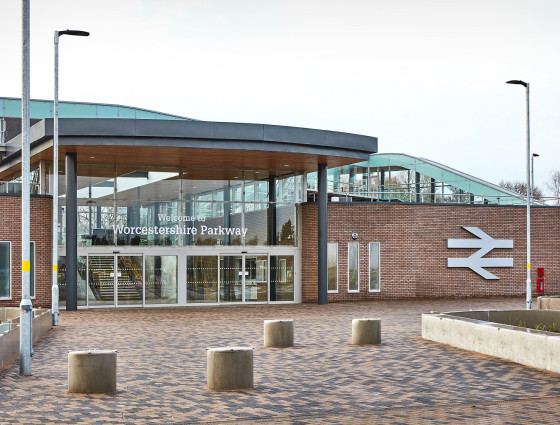 Worcestershire Parkway Rail Station
Worcestershire Parkway forms part of the wider £50million plus rail investment programme in Worcestershire and is a key part of the longer term Worcestershire Rail Investment Strategy.
Worcestershire Rail Investment Strategy
This scheme provided sustainable access to regional and national destinations by rail, including the south-west, north-east, London and the Thames Valley. This will significantly enhance Worcestershire's connectivity with the UK's key economies and encourage economic growth and development within the county.
Located to the east of Junction 7 of the M5, the station is accessible for commuters from all over the county. Currently, some commuters travel outside of the county to Birmingham or Warwickshire Parkway to get a train to London or the North.
The station opened on Sunday 23 February 2020. 
Worcestershire Parkway Station will
remove existing regional and national car journeys from the strategic road network, thereby reducing road traffic congestion
address Worcestershire's current poor accessibility to and from London arising from the limited frequency and length of journey time of North Cotswold Line services
transform access to the rail network for Worcestershire passengers currently restricted by minimal car parking capacity and limited opportunities for expansion at other County stations
tackle Worcestershire's exclusion from the Cross Country network (Bristol-Birmingham-North West/North East)
Scheme details:
The new station was built to serve the two railway lines (North Cotswold Line and Birmingham to Bristol Line) that it sits in between and will included:
a car park with a capacity of up to 500 spaces (including disabled parking) designed to current standards in terms of lighting, CCTV, ticketing, customer facilities and information points
a fully accessible modern station building with toilets, ticket desk, and a retail facility
a single platform on the North Cotswold Line and two platforms on the Birmingham to Bristol Line that will be fully accessible
secure cycle storage, motor cycle parking and electric car charging points
direct access to local bus services through a bus/rail interchange
taxi rank and drop off/pick up point
a new roundabout access to the station from the B4084
a new footbridge for the public right of way over the Birmingham to Bristol line