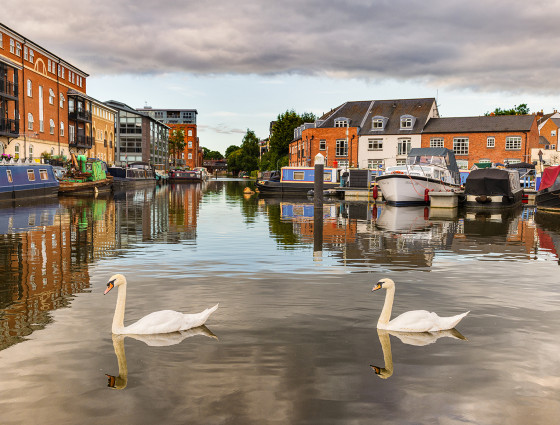 Worcestershire Habitat Inventory
The Worcestershire Habitat Inventory 2 is a mapping tool that displays land use and habitat data.
The Worcestershire Habitat Inventory 2 is a mapping tool that displays land use and habitat data for the county of Worcestershire at a field-by-field scale. It is intended to provide a baseline of information about the natural environment of the county. The full Inventory exists as a Geographical Information System, which was created using a number of different sources of data, including:
machine-led, remote sensing informed habitat and land use identification, completed during 2020-2021
high-resolution Aerial Photographic Interpretation completed in 2008
historic records such as a 1977 habitat survey dataset
our known network of designated wildlife sites
data from our partner organisations, for example some of the Natural England environmental agreements
'Ground Truthing' undertaken by appropriately trained surveyors to test the accuracy of the resulting map
The first iteration of the Inventory (WHI1) began in 2005 with Aerial Photographic Interpretation completed in 2008. This was reviewed using machine-led object-based identification based on remote sensing data in 2020-21. WHI relies on continual feedback of land use and habitat information from our partners and from users in order to update the Inventory. Worcestershire County Council has created a publicly accessible version of the Inventory and made this available via an online mapping tool.
Why do we need a Worcestershire Habitat Inventory?
Worcestershire Habitat Inventory is an evidence base which can help us make decisions regarding the protection and enhancement of our natural environment and wildlife that accord with the principles of landscape-scale nature conservation. Examples of what this evidence base can be used for include:
Implementing habitat creation schemes, restoring habitat networks and designing monitoring programmes as part of the Biodiversity Net Gain process and helping deliver the commitments for conservation and enhancement of the natural environment within the forthcoming Environment Act such as informing our Local Nature Recovery Strategy and Biodiversity Reporting
Delivering the commitments within the Natural Environment White Paper, published by Government in 2011, which promotes the creation of a resilient ecological network using the 'more, bigger, better, joined' approach: identifying more sites of nature conservation vale; increasing the size of existing sites; managing those sites better; and enhancing the connectivity between sites with sympathetically managed corridors
Guiding planners and planning authorities to implement the National Planning Policy Framework through the provision of Green Infrastructure in new development, minimising development impacts on biodiversity, supporting the establishment of coherent ecological networks and setting out a strategic approach in Local Plans to plan positively for the creation, protection, enhancement and management of biodiversity and Green Infrastructure.
Helping organisations in Worcestershire to work in partnership effectively to develop and deliver projects aimed at protecting and enhancing the county's landscape and biodiversity.
Assisting with the identification of areas of ecological importance to inform the development of Sustainable Drainage Schemes (SuDS)
How did we build the Worcestershire Habitat Inventory 2?
For further information on the construction of the refreshed Habitat Inventory, please read our Non-technical Guidance: Refreshed Habitat Inventory and Habitat Network Connectivity.
Worcestershire Habitat Inventory Web Tool
What can the web tool version of the Worcestershire Habitat Inventory be used for?
The Worcestershire Habitat Inventory 2 can help us make decisions regarding the protection and enhancement of the natural environment and wildlife in Worcestershire. The online mapping tool allows layers of land use and habitat data to be overlaid as you navigate around the county, provides you with descriptions of the habitats and of land management and enables you to make measurements including size and distance calculations.
Examples of how the data within the Worcestershire Habitat Inventory is already being used include:
informing Worcestershire County Council planning officers and district planning authorities in their decision-making processes
helping ecological consultants target surveys and tailor Biodiversity Net Gain plans, as well as species and habitat specific mitigation and enhancement strategies
providing baseline evidence for the Worcestershire Green Infrastructure strategy and Green Infrastructure Concept Plans
supporting preparation of Neighbourhood Plans
informing the development and delivery of nature and landscape conservation projects by different organisations across the county
Limitations
The online mapping tool has some limitations that users need to be aware of.
Remote sensing data can resolve habitat classes with degrees of certainty depending on both the ancillary data, time series of imagery and tier of habitat classification to be resolved, as set out in the Crick Framework. This means that certain habitat classes can be identified with higher degrees of confidence than others using a machine-led habitat identification approach of remote sensing data alone. For this reason, WHI2 also incorporates other datasets, and it is important that users interrogate 'habitat source' and 'confidence' ratings to understand the habitat identification mechanism for a particular land parcel, and the rationale underpinning consequent levels of habitat identification certainty as expressed in WHI2.
The age of the datasets or other information used within the WHI should be noted. While machine-led object identification uses multiple datasets, including 2016-2019 aerial and infra-red imagery, the aerial photo set used for the Aerial Photograph Interpretation process was flown in 2005 and interpreted between 2005 and 2007. Earlier datasets compiled from the 1970s onwards have also been incorporated into the habitat mapping processes. Targeted 'Ground Truthing' surveys have been undertaken between 2005 and 2020, and we continue to gather habitat information to ensure WHI2 remains 'up-to-date' and fit for purpose. We are keen to receive feedback on the content of the inventory in order to address any out-of-date survey information. See Web Tool User Guide for information on how to do this.
Incompleteness of some of the habitat datasets used to inform the WHI means information about some land parcels will be lacking. Although WHI2 mapping is more refined compared to WHI1, the extent of Biodiversity Action Plan-quality habitats is likely to still be under-estimated. This is especially the case for woodland and grassland as these habitats are known to be under-surveyed within the county. For example, where grasslands are identified as 'possibly unimproved' future ground-based survey work is likely to reveal previously unknown resources of BAP grassland.
Inaccuracies in Aerial Photograph Interpretation can arise due to distortions in colour, shadow, texture and pattern that may occur during the process of correcting for image perspective and relief. Photo-flights will also have taken place at different times or seasons during 2005 producing variations in light levels, cloud cover etc as well as differences in the appearance of habitats that change in colour or structure on a seasonal basis.
Linear features, such as hedgerows and road verges, have been mapped during production of the WHI2 and help inform Habitat Network analysis. However, this is based on remote sensing data only and land use decisions should take particular care to ascertain functional connectivity between existing habitats and any linear features, ancient countryside or integrity and intactness of the countryside as a whole. The Habitat Network analysis mapping outputs are appropriate for use at a regional or county scale but at finer resolution should be treated as indicative only and analysis should always be augmented by more detailed local data and targeted ground survey.
Designated sites, such as Sites of Special Scientific Interest (SSSI) and Local Wildlife Sites (LWS), are not included as separate layers within the WHI2 mapping site, although the pop-up information box in the 'Layers' mapping function will inform you of whether a particular land parcel has any such designations. For more detailed information about Worcestershire SSSIs and LWSs contact the Worcestershire Biological Records Centre.
Be aware that habitats and land use within certain land parcels may change on an annual basis, for example arable farmland with rotational grass leys and cropping patterns.
Wetland habitats are not well represented within the WHI2. The available data on the locations of this habitat is poor, predominantly because much of the remaining wetland and wet woodland comprises widespread small/micro features within dryer habitats, making them easily overlooked and under-recorded. Wetlands have also suffered considerably from drainage and agricultural improvement and there are very few sizeable areas of wetland remaining in Worcestershire. WHI2 users should refer to the supporting technical user guidance to understand the nature of underpinning data sources, the methods and assumptions in machine-led modelling of habitat identification from those data sources, and the model's sensitivity, specificity and confidence scores in identification of each habitat class.
Habitat Networks
The layers of data that you can view within the WHI web tool include habitat networks.
Cohesive habitat networks underpin an effective Nature Recovery Network (NRN), a key commitment of The Government's 25 Year Environment Plan which in turn will help deliver on the recommendations of the Lawton Report, Making Space for Nature2. As well as helping wildlife thrive, cohesive habitat networks bring a wide range of additional benefits: pollination services; carbon capture; water quality improvements, flood management and greater public enjoyment of our natural environment.  
WHI2 provides individual network connectivity maps for priority habitats and a merged priority habitat network map, which brings together all of the overlapping connectivity zones of individual priority habitat maps. The aim of the habitat network maps is to help identify possible locations for actions which improve ecological resilience of the current habitat network in line with the Lawton principles of 'more, bigger, better and joined'.
Download making space for nature
Based on the Natural England habitat connectivity tool, mapping components are divided into A) 'Existing Habitat' and B) 'Network Enhancement and Expansion' as outlined below:
Existing Habitat – Existing habitats are mapped within the following four components:

Primary Habitat: The priority habitat which is the focus of the individual habitat network e.g. lowland heathland.
Associated Habitat: Other habitat types that form a mosaic or an ecologically coherent group within the landscape and may, for example, be essential for some species associated with the primary habitat.
Habitat Creation and Restoration: Areas where work is underway to either create or restore the primary habitat.
Restorable Habitat: Areas of land, predominantly composed of existing semi-natural habitat, where the primary habitat is present in a degraded or fragmented form and which are likely to be suitable for restoration.
(B) Network Enhancement and Expansion – Around the habitat components described, the following network opportunity zones have been mapped:
Network Enhancement Zone 1: Land connecting existing patches of primary and associated habitats which is likely to be suitable for creation of the primary habitat. Factors affecting suitability include the following: proximity to primary habitat, land use (urban/rural), soil type and slope. Action in this zone to expand and join up existing habitat patches and improve the connections between them can be targeted here.
Network Enhancement Zone 2: Land connecting existing patches of primary and associated habitats which is less likely to be suitable for creation of the primary habitat. Action in this zone that improves the biodiversity value through land management changes and/or green infrastructure provision can be targeted here.
Fragmentation Action Zone: Land within Enhancement Zone 1 that connects existing patches of primary and associated habitats which are currently highly fragmented and where fragmentation could be reduced by habitat creation. Action in this zone to address the most fragmented areas of habitat can be targeted here.
Network Expansion Zone: Land beyond the Network Enhancement Zones with potential for expanding, linking/ joining networks across the landscape i.e. conditions such as soils are potentially suitable for habitat creation for the specific habitat in addition to Enhancement Zone 1. Action in this zone to improve connections between existing habitat networks can be targeted here.
The aim of WHI2's habitat network maps is to help identify possible locations for actions to improve ecological resilience of the current habitat network in line with the Lawton principles 'more, bigger, better and joined'. Habitat network zones have therefore been ordered to reflect the Lawton Principles:
improve the quality of current sites by better habitat management
increase the size of current wildlife sites
enhance connections between, or join up, sites, either through physical corridors, or through 'stepping-stones'
create new sites
reduce the pressures on wildlife by improving the wider environment, including through buffering wildlife sites
As habitat network maps have been produced through a geospatial process primarily using remote sensing data, they should only be used to help inform decisions around habitat management and any interventions for a particular site should take account of local knowledge of the area and ecological expertise taking full account of local opportunities and constraints. It is recommended that the maps are used in conjunction with other datasets and with local knowledge to identify opportunities for action. As new habitat survey data and ground truth data become available, it is possible that these new data will influence the distribution of habitat connectivity networks. 
Because this information is aligned with the Natural England habitat network approach, it can be compared, assessed, and integrated with other available habitat data at broader scales, and is in line with national best practice.