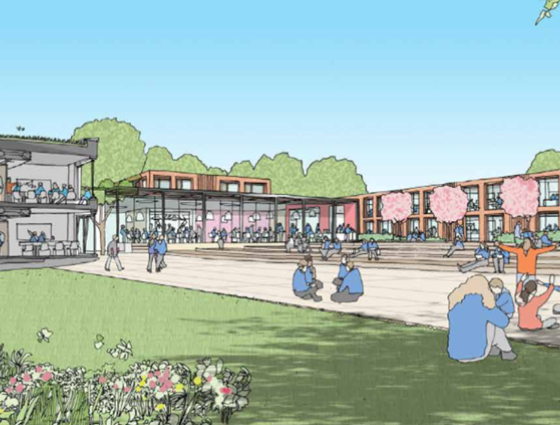 New Worcester Secondary School
The school will be delivered by Worcestershire County Council and run by the multi-academy trust Oasis Community Learning.
On Tuesday 2 February 2021, Cabinet gave approval to establish a new 600 place secondary school in Worcester to meet the increased demand for school places.
Why do we need a new school?
The forecasts have shown that the school age population is rising and that there is a continuing need to increase the number of places in Worcester secondary schools.
In order to meet this increase, WCC has worked with existing schools in Worcester to use their surplus capacity and add new places to existing local schools. It is not possible to expand these schools indefinitely.
The school will open initially to Year 7 children and will grow over time as it will take a new cohort of Year 7 children each September.
The delivery of a new school in Worcester will ensure sufficient places across the City and ensure an element of surplus which will ensure:
families have an element of choice and increase the likelihood that families receive one of their top two preferences
all children who move into the City during the school year are offered provision within 20 days; and
all children who want to access a place in their local community are able to do so, reducing school travel times
The delivery of a new school provides an opportunity to build on the existing 'Good' secondary school provision in Worcester and offers more choice of schools which is important to support our children and young people in achieving good attainment and realising their full potential.
The requirement for a new school and alternative options were considered by Cabinet in February 2021, for more information see Agenda and minutes
The delivery of a new school will ensure children can access a secondary school place within their local community in a growing City. The need for a new secondary school in Worcester goes hand in hand with the approval of large housing developments around the City, and also improves choice and access for families.
A further 5,000 homes are planned as part of two major Worcester urban expansions. Based on historic developments, new housing tends to attract families with an average of approximately 20 secondary school age pupils per 100 dwellings.
Open engagement and consultations
Previous engagement and consultations
Public Engagement 11 May to 11 June 2021
This engagement marked the first opportunity to have a say about what is important in the delivery of a new secondary school.
A total of 595 responses were received and the results of this survey will allow Worcestershire County Council at the very earliest stage to ensure a new school will meet the needs of current residents, as well as communities for generations to come.
Worcestershire Secondary School engagement results (PDF)
Public Consultation 29 November 2021 to 23 January 2022
Following feedback from the public engagement event, Worcestershire County Council sought views on the proposals for the new school. These include:
pupil age range
size of the school
location
values
build principles
238 people responded to the consultation alongside 55 primary school children who took part in workshops with the results used to finalise the specification and guide future decision making in the delivery of the new school.
Download: Consultation Document (PDF)
Download: Background Information and School Specification (PDF)
What happens next?
Stage one: establishing the need for a new school - completed February 2021.
Stage two: engagement with stakeholders and residents - May to June 2021.
Stage three: consideration of site - November 2021.
Stage four: consultation on site and school specification - December 2021 to January 2022.
Stage five: academy sponsor competition - March to May 2022.
Stage six: planning application submission.
Stage seven: construction commences.
Stage eight: academy pre-opening phase and consultation.
Stage nine: school opens.
Oasis Community Learning
Following a rigorous selection process, the multi-academy trust Oasis Community Learning was confirmed by the Department for Education in November 2022 as the preferred sponsor for the new Worcester City Secondary School.
Oasis Community Learning is a multi-academy trust with 52 academies across the country including 18 secondary schools and Oasis Academy Warndon, a Worcester primary school, rated by Ofsted as an 'Outstanding' school in 2022.
The Trust has local understanding and knowledge in addition to offering a broad curriculum and range of support for children and young people and their families. Oasis have demonstrated their ability to achieve positive outcomes for pupils and equip them for further education, training and employment. 
For more information about Oasis Community Learning.
For all enquiries about Oasis Community Learning please email: Education.enquiries@oasisuk.org