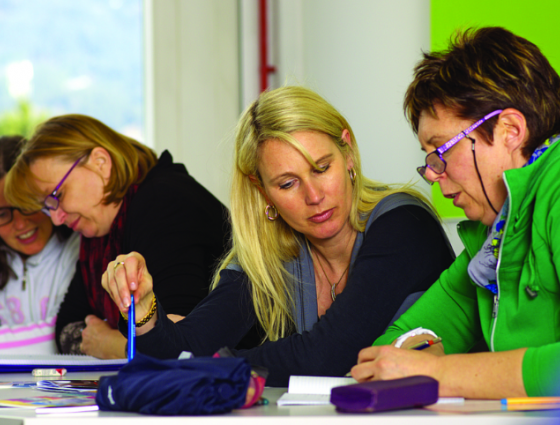 Adult Social Care workforce development
Working for Worcestershire, career development and learning opportunities in Adult Social Care.
Make a difference
There are few jobs where you can make a real difference to people's live on a daily basis but working in Worcestershire Adult Social Care means you can.
Worcestershire County Council has a variety of career opportunities including: 
Social Workers (Adults, Safeguarding, Learning Disabilities and Mental Health) 
Social Work Assistants
Reablement (caring for and supporting people in their own homes to increase their independence). 
Support Work (in our own residential care homes and Day Centres) 
Find details of our current vacancies
Working for us
While you are working hard, doing your best for the people of Worcestershire, we will do our best to provide an environment that supports and inspires you.  
Here are some of the top reasons why you should work here
Our People
You will be joining a great team. In our last staff survey, 91% of our people say they have good working relationships with their colleagues.
This is fantastic because our people are at the heart of our culture and everything which we do. We are proud to celebrate our inclusivity – this is really important to us. In recognition of this we are a Disability Confident Employer.
Your development
Worcestershire County Council has a dedicated Learning and Development team.
Working to support mandatory learning, apprenticeships, an ongoing offer of face to face and virtual workshops including leadership and management and programmes of support dedicated to care and social work. 
Flexibility
Everyone says they offer flexible working, but we have been doing it for years and it really matters to us. It really matters to our people too – it's one of the things they value most about working here.
Whether our people work from the office, home or other sites, it's what they do rather than where they do it that matters to us.
Our benefits
Some of our standout benefits include:
great holiday entitlement. As well as bank holidays, you'll get 26 days paid holiday (pro rata for part-time staff). This goes up to 31 days when you have been with us for 5 years. If you get more than 26 days where you work now, don't worry because if you join us without a break, we'll match your holiday up to 31 days. If you need even more, we have a great holiday purchase scheme

brilliant pension scheme. The Local Government Pension Scheme (LGPS) is a nationwide, career average pension scheme and is a valuable part of the pay and reward package for employees working in local government.

cycle to work scheme 
tusker car scheme
career and Learning & Development opportunities including E-Learning on a range of subjects, apprenticeships, career pathways
 
Care and support careers
We have a number of services provided by Worcestershire County Council, including Residential Care Homes, Replacement Care (sometimes called Short Breaks or Respite), Shared Lives, Day Services and Reablement (short-term support for people in their own home).
Support Workers (or Care Assistants or Promoting Independence Assistants)
These are our front-line roles. They provide support directly to people living in and using our services.
We often have vacancies, and we are looking for people who are enthusiastic and caring and want to improve the lives of people using services. 
Senior Support Workers (or Senior Reablement Workers)
Senior support workers have a dual element to them. Part of the role is overseeing and supporting the care and support provided to people who use services – working alongside the Support Workers to provide good quality care and support to people.
The other part is supporting the management of care and support, which includes supervising front-line staff and supporting any management actions, such as completing documentation and records, promoting and supporting recruitment and retention of staff and checking and monitoring the quality of the services being provided.
Team Supervisors (and Team Leaders)
Team supervisors and leaders are the first line management of services. People in these roles line manage groups of staff and support them to carry out their duties and also support their personal and career development.
Supervisors undertake duties to support the management of the service, including dealing with concerns or complaints, quality monitoring, decision making and responding to queries. Many people in this role also deputise in the absence of more senior managers.
Service Assessors
Service Assessors work in the Reablement Service. Their role is to assess people new to the service to identify what support is needed to support people.
They then write a plan with the person and agree how the service will be provided, including the number of visits and the level of support the service will provide.
Service Assessors also 'case manage' people while they are using the service, reviewing the support as needed and agreeing the longer-term goals and plans with the person.
Registered Managers
Registered Managers are responsible for services. They are registered with the Care Quality Commission for the service they hold responsibility for. Their role is to ensure that the service meets quality and safety standards.
They oversee the work of Supervisors and Assessors and provide line management to this group. Registered Managers also undertake service improvement work based on quality monitoring and feedback, and implement changes aimed at enhancing the outcomes for people using service.
Shared Lives Workers
Shared Lives Workers work in the Shared Lives service. Their role is to monitor the services provided to people by Shared Lives Providers.
They carry out visits to Providers' homes and talk to Providers and people who use the service to ensure that people are safe and well. They work with prospective Providers to support recruitment and development of Shared Lives placements.
They also undertake quality monitoring of placements, and support actions where these are required.
Administrative roles
There are several administrative roles across our services, including Administrative/Finance Assistants, Coordinators and Team Support Officers.
These roles work in specific services and have duties including being the first point of contact for the service, completing financial tasks, answering and responding to queries and recording information.
Coordinators work in the Reablement Service and are responsible for planning visits and matching these to suitable staff.
 
What does a Worcestershire social worker look like?
Worcestershire is continually striving to transform our social work service to ensure we provide a timely, transparent, person-centred and efficient service for our adults and carers. 
We also strongly believe in working closely with our health colleagues to improve outcomes for people. We have changed the way we work so that we have social workers based in all hospitals and linked to GP surgeries across the county, ensuring co-ownership of issues and improved multi-disciplinary working.
 
Continuing Professional Development
Continuing Professional Development (CPD) is vital to ensure our social care workforce provide quality support to adults and families in Worcestershire.
CPD promotes our professional identity and ensures that we remain up to date with developments, supporting us to improve our practice in line with new research and evidence.
Working for Worcestershire you will have access to a range of learning and development opportunities to support you to Thrive in your career. 
Leadership and Management Development
We recognise that a vital key to our success is the skills, attitudes, knowledge and behaviours of our leaders. To support this, in addition to social work specific training, we offer: 
A set of management leadership competences that defines what we expect from our leaders, which are embedded in our recruitment processes so that we recruit managers who can display the competences we need.
A learning and development package consisting of a suite of courses and workshops that will enhance the abilities of all managers to reach and maintain the new competences.
This package consists of 3 pathways as follows:
The Aspiring Manager
The New Manager 
Advancing Manager 
Access to a suite of online learning resources.
Safeguarding training appropriate to your role.