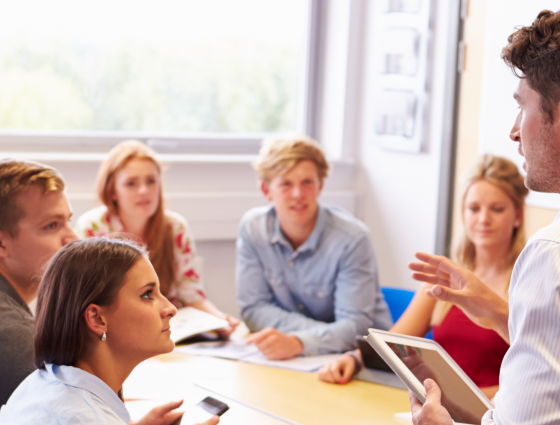 Social Work Academy
All Social Workers employed by the council will benefit from support from the Social Work Academy.
The team are passionate about supporting all frontline practitioners throughout their career, with their professional development and practice. All our work is linked to facilitating practitioners to achieve the best outcomes for children, families, and adults in Worcestershire.
Support from internal social work recruitment team with opportunities to develop your career within Worcestershire and transition across the service.
Social Workers benefit from a range of Continuing Professional Development (CPD) Opportunities linked to practice themes both internally and from The West Midlands Social Work Teaching Partnership and Research in Practice.
"Research In Practice is an invaluable tool for developing knowledge that can be used in practice. There are a variety of sources from webinars, research papers and online training. I love how the online training incorporates time to go through materials before the session and how the materials support your learning" - Newly Qualified Social Worker
The Social Work Academy includes:
Practice Education offer including Communities of Practice
Newly Qualified Social Worker support including action learning sets
Student and Apprentice support including forums and drop in sessions
Continuing Professional Development offer, including access to a variety of learning opportunities and surgeries
Leadership and management development pathway
Career progression and development pathways
A commitment to work towards co-production
Collaborative working with local Higher Education Institutions and Universities
Access to wellbeing support 
Routes into Social Work
We work in partnership with our local social work degree providers; University of Worcester and Heart of Worcestershire (HOW) College. The University of Worcester offer BA and MA level qualifications in social work.  Heart of Worcestershire (HOW) College offer the BA programme. We also work with the West Midlands Regional Partnership Step Up to Social Work programme to start your post graduate career in children's social care in 14 months.
Degree courses at both BA and MA level are offered throughout the country:
Social Work Apprenticeships
Worcestershire County Council are currently supporting the Social Work Apprenticeship Scheme provided by Warwick University.
The apprenticeship scheme uses apprenticeship standards as a measure of assessment and more information on these standards can be found here:
Student Placements
Shadowing opportunities are available and is organised in conjunction with the universities and is usually for two days. 
Social work placements are undertaken as part of an accredited programme of study towards a Social Work Degree.  These are either 70 or 100 days. 
Our expectations of students 
commitment and enthusiasm
although you are not registered with the Social Work England, we expect students to adhere to the SWE Standards, professional frameworks and Worcestershire County Council policies.
to help us to make any necessary adjustments, we expect to be informed if a student has an illness, disability or specific individual needs.
The Social Work Academy provides support to Students through:
student Handbook
student Induction
student Forums
student Drop in sessions
DBS Checks and Risk Assessments
It is expected that students will have a DBS check in place before starting their placement. We expect Practice Educators/Workplace Supervisors to ask to see DBS checks before the start of the placement. If necessary, Worcestershire County Council will then undertake a Risk Assessment.
Placement Evaluation
An evaluation (QAPL) form will be provided by the Social Work Programme to the Practice Educator/Workplace Supervisor and the student to monitor the quality of placements.  Students and Practice Educators will receive individual written feedback from the Programme Practice Assessment Panel (PAP) on the quality of the portfolio.
The roles
Specialist Roles
Management pathway
Contact us
We hope that you will easily find the information that you are looking for. If you have any questions regarding the content featured or queries, please email the Social Work Academy on LDAdmin@worcestershire.gov.uk