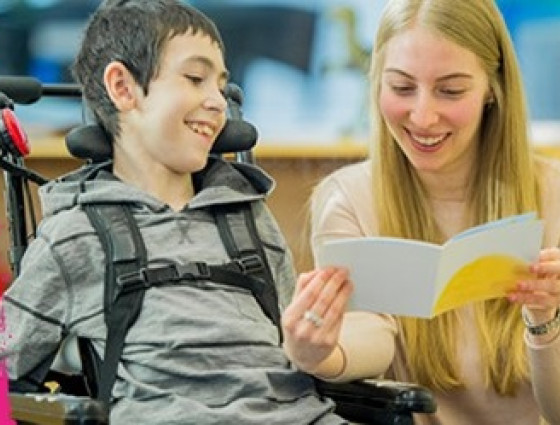 All-Age Disability Newsletter
This will provide parents and carers of young people with SEND with news and updates within the service.
Welcome to the September AAD Newsletter
Hi and welcome to the September edition of the All-Age Disability (0-25 years) Newsletter. We hope you had a lovely summer, despite the mixed weather we had. The newsletter is a little shorter this month as it's covering information from August, when things are a little quieter.
Update from Mel Barnett
I hope that you have all had a good summer break. In my last update I provided details of the National SEND and AP Programme which sets out the plans to change the SEND and AP system in England. As previously updated Worcestershire will be part of the Change Programme and will be one of the Local Authorities in the West Midlands that will make up what is now called the Change Programme Partnership which will:
test, deliver and iterate key reform proposals
and
build capacity and capability and further spread the testing of reforms, through a sector-led taskforce approach targeted at local areas that need help to improve their practice
The partnership will work closely with parents, carers and children and young people to ensure they are involved in the testing, learning and development of the reforms. In addition, Partnerships will also receive extensive hands-on support and expertise from REACh (Reaching Excellence and Ambition for all Children), the Department's Delivery Partner. PA Consulting will lead the consortium, comprising of IMPOWER, Council for Disabled Children (CDC) and Olive Academies. Regular updates will be added to the Local Offer. The national launch event will take place on 19th September 2023.
I also want to take the opportunity to provide an update on the ASD Free School Application Process. As you will be aware Worcestershire were successful in their application for a Special Free School. The application process for interested parties opened on 9th May 2023 and closed on 31st August 2023. Throughout the Autumn term 2023 applications will be assessed and interviews will begin. In January 2024, the successful applicant will be announced.  The new Free School will be located in Malvern, on the site of the current Poolbrook Centre. It will be a Special Free all-through school and will create 120 places for 5–19-year-olds (Reception to Year 14) with Autism and will open in a phased approach.
Mel Barnett – Director for All-Age Disability
Good News Story
Archie is a young man of 24 who has services through the Young Adults Team in the All Age Disability Service.  He has additional needs relating to Downs Syndrome and a hearing impairment.  Archie has always been passionate about kitchens, cooking and serving food to customers.  On leaving his special school in Worcestershire, he went to Foxes Academy which specialise in teaching young people with additional needs the skills needed to work in a kitchen and provide food services.
Following his graduation from Foxes he has been supported by Adult Services, along with lots of support from his parents and support workers to attend a variety of services that have encouraged and supported this passion.  He attends two community cafes which both support young people with additional needs.  He also volunteers at a care home by supporting in the kitchen along with another Community Café. Archie has been helped by the Supported Employment Team at Worcestershire County Council to build up his self confidence in these roles, and to maximise his employability skills.
As a result of this Archie has been employed on a part time basis at a large hotel and has just been given his first contract with them as an employed member of staff.  This is a great achievement and something to celebrate - well done Archie!
The SEND Local Offer 'Training for parent and carers page'
Did you know there is a page on the SEND Local Offer which has details of training opportunities for parents and carers? We have tried to pull together information about different organisations who offer workshops and training for parents of SEND children and young people. Many of the courses offered are either free or low cost and can be accessed online. You can find the information here: Training for parents and carers.
If you are aware of any training opportunities which aren't listed here, we would love to hear from you about them, so we can add the details to this page. If you do know of any, please email: localoffer@worcschildrenfirst.org.uk and mark the subject line Training opps.