Hoobrook junction and link road
Hoobrook Junction
This scheme is part of our multi-million pound programme of works to relieve congestion hot spots across the county.
Hoobrook is a busy roundabout providing connectivity between the A442 Worcester Road, A449 Chester Road South, A449 Worcester Road and Wilden Lane, which currently experiences congestion at both morning and afternoon peak times.
The improvement works, which are planned to be completed by the Autumn, include additional lanes and signalisation on the three main arms and the roundabout itself to improve the flow and manoeuvrability of traffic. This will be further achieved by reconfiguring the central island and the splitter islands at each junction, including Wilden Lane approach.
As part of the scheme, some footways in the area will also be widened to create improved footway and cycleway where possible, along with an upgraded crossing on Chester Road South.
The works site will be set up from 18 January, ahead of construction works starting from Wednesday 27 January.
This scheme has been part funded by the Government's Getting Building Fund with £1.3m investment, via the Worcestershire Local Enterprise Partnership. The Getting Building Fund aims to boost economic growth, and fuel local recovery and job creation.
Hoobrook Link Road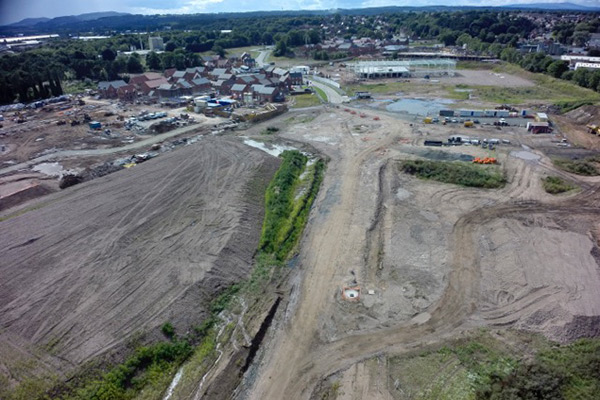 Background
The Hoobrook Link Road is situated within the South Kidderminster Enterprise Park which is one of Worcestershire Local Enterprise Partnership's (WLEP) Strategic Employment sites. Existing traffic congestion is a barrier to economic growth in the immediate and wider Kidderminster area. The proposed link road will provide improved access, connect two key employment corridors, promote much needed economic growth and relieve traffic congestion.
The alignment of the preferred scheme has been identified. This alignment has been developed in consultation with Wyre Forest District Council and will facilitate the regeneration of an existing industrial estate as well as relieving congestion on the existing transport network and releasing further economic growth within the wider Wyre Forest area.
Environmental impacts
The new road is being built on a mainly Brown Field site. An Environmental Impact Statement has been produced. Ecological and Arboriculture (tree) surveys were undertaken to establish the requirements for dealing with any protected species. The new road has been designed to reduce its environmental impact.
Some of the trees and bushes that have grown along the proposed route of the road have been removed to enable the road to be constructed. Appropriate landscaping will take place at the end of the scheme.
Any lighting design will take into account the local environment and will use lighting heads which limit light pollution.
It is currently envisaged that there will be no significant change to noise levels as a result of the change of use, this follows a noise level investigation.
Timescales
full planning permission granted spring 2014
start of overhead power line diversion early 2015
compulsory purchase order, side roads order and bridge orders approval spring 2015
orders legally published spring 2015
road contract awarded summer 2015
construction commences summer 2015
completion summer 2016
Funding
The scheme is being funded by the following bodies:
DfT Pinch Point Fund
Greater Birmingham and Solihull Local Enterprise Partnership
third Parties such as developers
Worcestershire County Council
Worcestershire Local Enterprise Partnership
Worcestershire Local Transport Board
Progress to date and future works
To date, the Worcester Road junction and widening section was completed in December 2015.  The Stourport Road junction improvement commenced in January 2016 and is currently on-going. The bridge beams have been lifted into place and decking is currently being poured.  It is anticipated that the decking will be completed by the end of Spring 2016.
The link road element of the scheme, is under construction and will be completed by Autumn 2016.