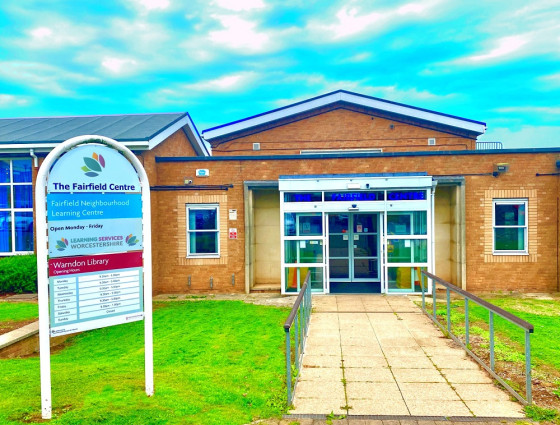 Welcome to Fairfield Learning Centre
At Fairfield Learning Centre in Warndon, Worcester we're all about embracing the joy of learning, empowering individuals, and nurturing community connections.
Nestled in the heart of Warndon, Worcester we are a vibrant hub that brings together Adult Learning Worcestershire, Young Adult Learning Worcestershire, and the Warndon Library, all under one roof. 
Whether you're an eager learner, a book enthusiast, or simply seeking a welcoming community, Fairfield Learning Centre welcomes you with open arms. Explore our range of learning programs, engage with the friendly library, and immerse yourself in a world of discovery.
You'll find the Fairfield Learning Centre at Carnforth Drive, Warndon, Worcester, WR4 9HG
A World of Learning and More
Whether you're eager to expand your knowledge, enhance your skills, or simply indulge your curiosity, Fairfield Learning Centre is the place to be. 
Operated by Learning Services Worcestershire, part of Worcestershire County Council, ensures that you have access to a diverse array of learning opportunities tailored to your needs and interests. From enriching adult learning programs to engaging young adult initiatives, we've got you covered on your journey to personal and professional growth.
Visit us at www.worcesteshire.gov.uk/courses to learn more about our available courses, events, and the wonderful world of learning that awaits you at Fairfield Learning Centre. We can't wait to meet you and share in the excitement of your educational adventure!
View all the available Adult Learning and Young Adult Learning Worcestershire courses. 
Find out more about Adult Learning Worcestershire
Discover Young Adult Learning Worcestershire
Home to Warndon Library
Nestled within the walls of the Fairfield Learning Centre is Warndon Library, a treasure trove of knowledge and imagination. 
Whether you're seeking a captivating story, diving into research, or simply enjoying some quiet time, the library offers a world of books, resources, and digital wonders to explore. 
It's not just a space for reading—it's a location for the community to come together and take part in special library -based events, take part in community job club and for children to enjoy regular activities.
Visit Warndon Library online
Want to join a Worcestershire Library?
 
Where Community Thrives
Fairfield Learning Centre is not just a place for courses and classes—it's a vibrant community space where you can connect, collaborate, and explore. 
Here, you'll find a welcoming environment where individuals of all ages come together to learn, share experiences, and build lasting friendships. From workshops that spark your creativity to community events where you can connect with local people, there's always something going on.
To contact Fairfield Learning Centre please call 01905 728537 or email adultlearning@worcestershire.gov.uk. 
To connect with Warndon Library please email WarndonLib@worcestershire.gov.uk