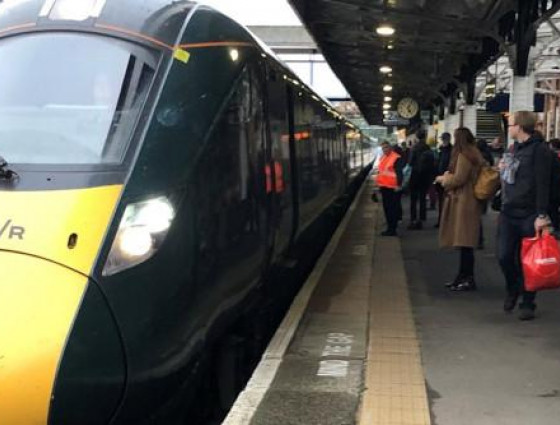 Rail travel
Most larger urban areas in Worcestershire have a rail station, offering a fast and stress free alternative to driving. 
Rail is the fastest and most reliable (surface) mode of transport. In Worcestershire, most of our larger urban areas have a rail station, which offers a fast and stress free alternative to driving, particularly if you are going the distance!
Changes to rail timetables
The National Rail Timetable runs from the second Monday in December each year, in line with railways in the rest of Europe. The timetable changes a twice a year in May and December.
In addition to these dates there may be changes in connection with engineering works which may affect weekend services and services over Easter or Christmas.
Details of timetable changes in connection with engineering works will be available on the individual train companies websites or from the National Rail Enquiries website, visit National Rail.
Local rail services
The following rail services operate in Worcestershire:
For the official source of information on rail information, UK train times, timetables, journey planner, railcards and up to date service information contact National Rail Enquiries on their website or telephone: 08457 48 49 50.
Rail user groups
---
National Groups
Transport Focus
Transport Focus is the independent national rail consumer watchdog; their mission is to get the best deal for Britain's Rail Passengers. This independent public body was set up by the Government to protect the interests of Britain's rail passengers. Their objectives are:
Understanding the needs and experiences of rail passengers.
Securing tangible and measurable improvements for rail passengers.
Empowering rail passengers with information, advice and advocacy.
Influencing major long-term decisions that affect rail passengers.
Being visible, accessible and understood by rail passengers and stakeholders.
---
Local Groups
Bromsgrove Rail Users Group
Bromsgrove Rail Users Group has the aim of campaigning for:
Stops at Bromsgrove for all local northern bound trains.
Improved station facilities at Bromsgrove to include disabled access, ticket buying facilities, better passenger shelters, improved car parking and toilet facilities.
These facilities to be provided by a new station south of the existing station.
Cotswold Line Promotion Group
The Cotswold Line Promotion Group is an entirely voluntary organisation formed in 1978, with the aim of safeguarding and promoting improvements to rail and bus feeder services along the Oxford to Worcester railway line.
In 1986 the group's activities were extended to include the Worcester to Hereford line. It considers that a mixture of through and local services is essential to the future of the railway.
Stourbridge Line Users Group
The Stourbridge Line Users Group covers the line from Birmingham to Stourbridge, Kidderminster, Droitwich and Worcester although it also promotes rail services in adjacent areas.
The group is dedicated to improving the standard of public transport and aim to create a user-friendly rail service that meets all expectations of reliability, frequency and cleanliness. They also aim to protect the line to and beyond Birmingham and Worcester.
Worcestershire rail stations
| Worcestershire rail stations | Address |
| --- | --- |
| Alvechurch | Station Road, Alvechurch, B48 7SE |
| Barnt Green | Fiery Hill Road, Barnt Green, B45 8PA |
| Blakedown | Mill Lane, Blakedown, DY10 3LF |
| Bromsgrove | New Road, Aston Fields, Bromsgrove, B60 2LX |
| Droitwich Spa | Union Lane, Droitwich Spa, WR9 9BD |
| Evesham | High Street, Evesham, WR11 4EQ |
| Great Malvern | Station Approach, Great Malvern, WR14 3AL |
| Hagley | Station Drive, Hagley, DY9 0NX |
| Hartlebury | Station Road, Hartlebury, DY10 4HB |
| Honeybourne | Station Road, Honeybourne, WR11 6RD |
| Kidderminster | Station Approach, Comberton Road, Kidderminster, DY10 1QZ |
| Malvern Link | Worcester Road, Malvern Link, WR14 1SW |
| Pershore | Station Road, Pinvin, Pershore, WR10 6FG |
| Redditch | Bromsgrove Road, Redditch, B97 4RB |
| Worcester Foregate Street | Foregate Street, Worcester, WR1 1DB |
| Worcester Shrub Hill | Shrub Hill, Worcester, WR4 9EJ |
| Wythall | Lea Green Lane, Wythall, B47 6BY |
Engineering Works
Engineering works take place at many places on the rail network especially at weekends. For further details, visit National Rail.
---
Worcester Travel app