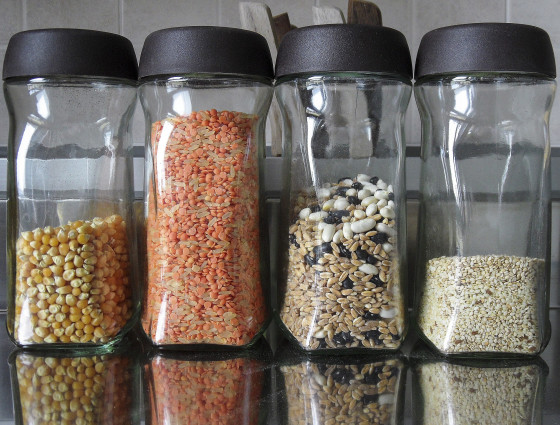 Store cupboard heroes
Store cupboard heroes that will add a burst of flavour to your meals and leave you feeling full.
Dried pasta and rice have been flying off the supermarket shelves. Get to grips with other store cupboard heroes that will add a burst of flavour to your meals and leave you feeling full.
Store cupboard heros
Lentils
Lentils carry flavour and are a great meat replacement. Whether you prefer green or red lentils, try substituting for half of the beef in a Bolognese.
Frozen veg
Frozen veg is picked and frozen at peak ripeness and peak nutritional levels. Helpfully, they are usually prepped so they can go straight into your pan without stopping for a chop. Frozen peas are perfect in this pea and mint risotto.
Frozen herbs
Freeze from fresh or buy frozen herbs such as parsley or coriander. Simply snap off a portion and add to dishes for a burst of aromatic flavour.
Dried spices
Curry powder, turmeric, Garam Masala, paprika, chilli and cumin can add a crucial hit of flavour. You'll be amazed at how they can liven up the most basic dish.
Oats
Oats last for ages, and porridge makes for a hearty breakfast. We like ours with some jam or frozen berries. Milk running low? Try this easy oat milk to go with your morning coffee. Make a little extra to save for these tasty porridge pancakes.
Capers, anchovies and gherkins
These briny beauties are a great way to season your food. Put capers and anchovies in pasta or panzanella, or gherkins chucked into your mac and cheese.
Sauces
Whether you reach for sriracha, soy or Worcestershire. A dash will take your dish to perfection, from scrambled eggs to cheesy toast.
Tinned beans
Like lentils they are packed with protein and fibre, they will keep you fuller for longer and carry flavour with an amazing texture. Try this three bean Mexican chilli.
Dried or vacuum packed noodles
Make a five-minute meal with soy sauce, spring onions and whatever ends of veg you have available.
Sesame or pumpkin seeds
Cheaper than nuts and just as tasty and nourishing sprinkled over risottos, pastas, salads or anything really. A little crunch for your lunch.