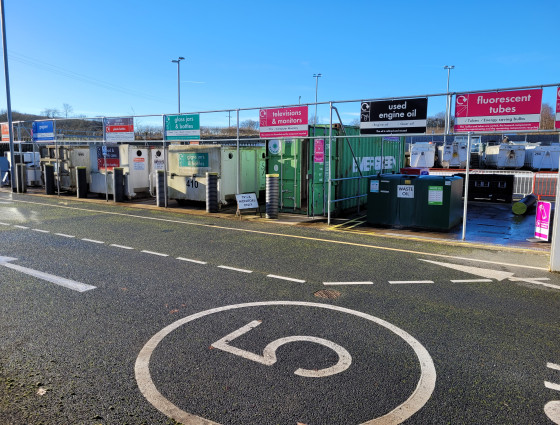 Household Recycling Centres
Household Recycling Centres are provided in Herefordshire and Worcestershire for the residents of the two counties to recycle and dispose of their household waste.
Find your local Household Recycling Centre to recycle and dispose of your rubbish
Worcestershire County Council administers the Household Recycling Centres that are provided for the residents to recycle and dispose of their household waste.
Please note
all sites are closed on Christmas Day, Boxing Day, and New Years Day
arrive at least 15 minutes before the site closes to allow time to unload.
it is important to wear suitable clothing, gloves and sturdy footwear (no open toe footwear)
Commercial Vehicle and Trailer (CVT) Permit scheme is in operation at all Household Recycling Centres
Residents permits are in place at our Bromsgrove (Quantry) and Redditch sites, but you can use these sites if you have ID with your address on to show you are a Worcestershire resident
Bromsgrove (Quantry) HRC has a booking system for Saturday, Sunday and Monday, please book online, visit Bromsgrove household recycling centre
there are no restrictions on the amount of times you may visit an HRC, unless you are using a Commercial Vehicle and Trailer (CVT) Permit where restrictions exist
"Greengrow" soil conditioner is available to purchase from all sites at £2 per 40 litre sack

staff can only take payment by card
more information on how Greengrow is produced from the garden waste collected from HRC sites and the brown bins, and to order in bulk please visit the Greenglow website.
Severn Waste recording equipment
Severn Waste Services (SWS) utilise image recording equipment for the safety and protection of its staff, contractors, visitors and members of the public. This includes the use of CCTV on sites, vehicle mounted cameras and body cameras. All personal data collected by SWS is handled in line with applicable data protection law. For more information on how SWS use and protect your data, please read their Privacy Notice. The Data Protection Impact Assessment, Privacy Notice and CCTV and Image Recording Equipment Policy are available upon request from SWS by emailing enquiries@severnwaste.co.uk.
Have your say
If you have a compliment or a complaint about a particular Household Recycling Centre, contact Let's Waste Less.
Compliments and Complaints April - October 2023
| Household Recycling Centre | Compliments | Complaints |
| --- | --- | --- |
| Bromsgrove (Quantry Lane) |   | 5 |
| Bilford Road | 1 | 6 |
| Droitwich (Hanbury) | 3 | 7 |
| Hallow Road |   |   |
| Kidderminster |   |   |
| Malvern | 3 | 6 |
| Pershore (Hill & Moor) | 1 | 3 |
| Redditch | 2 | 8 |
| Stourport | 1 | 3 |
| Tenbury |   | 1 |
| Upton |   |   |
| Bromyard | 3 | 1 |
| Hereford (Rotherwas) | 13 | 8 |
| Ledbury | 16 | 1 |
| Leominster | 4 | 6 |
| Ross-on-Wye | 4 | 3 |
| Kington | 32 | 1 |
| Total | 83 | 59 |
Household Recycling Centre Rules
vehicles must not exceed the 3.5 tonne weight restriction
CVT permit schemes are in operation across all HRC's
site staff are authorised to inspect any waste brought into the site
waste cannot be removed from the site once deposited
users must comply with instructions and site signage
sort your waste at home first, no non recyclables in recycling containers
pedestrian access is not allowed
ask if you require assistance with unloading and a member of trained staff will help
children under 16 and pets must remain in vehicles
smoking is not permitted
the HRC at Bromsgrove (Quantry) and Redditch (Park Farm) require a residents permit or proof of residency
Please note: Cement bonded asbestos will only be accepted on site if it is double bagged or wrapped in plastic sheeting and sealed. Upon arrival at a Household Recycling Centre you should identify to a Site Assistant that they wish to dispose of asbestos.
If advice on the safe disposal of asbestos is required, residents should call before visiting:
Hallow Road (Worcester West) 01905 421116 
Malvern  01684 892785 
Pershore (Hill & Moor) 01386 861434 
Stourport  01299 826736 
Redditch  01527 526392 
It is advisable to contact the site in advance to ensure there is available capacity. Any material deposited must be able to fit into the container openings which measure 84cm by 158cm.
Customers are requested to be courteous to site staff and other customers. Abuse and intimidation of site staff and other customers will not be tolerated and legal action may be taken if this occurs.