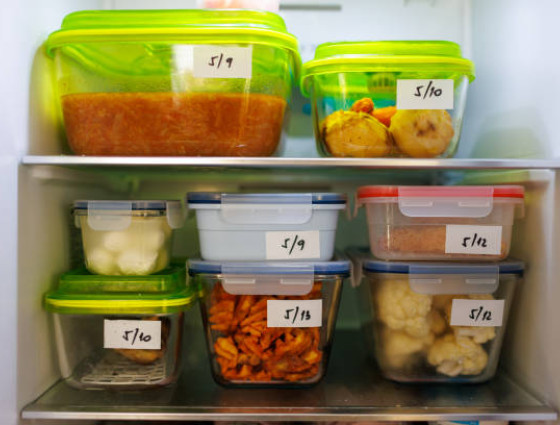 Storing your food
Tips for storing fruit and veg will help you keep your five-a-day in peak condition until you're ready to eat them.
Fresh fruit and vegetables are healthy and delicious but are also some of the most commonly wasted foods. See #useyourloaf for more information on how to reduce bread going to waste.
Tips for storing fruit and vegetables
Potatoes and sweet potatoes
Potatoes are best kept in a cool, dry and dark cupboard. Don't worry if they have started sprouting, just cut off any sprouts before using them.
Apples
860,000 apples are thrown away a day in the UK! Apples last up to two weeks longer in the fridge in their original packaging. If you buy them loose, pop them in a reusable container in the fridge. 
Bananas
Bananas should be kept in a cool and dark place (but not the fridge) and should generally keep their distance from other fruit and veg.
Mushrooms
A mushroom's ideal home is in the fridge in a paper bag or the original packaging. Once opened, keep them fresh by covering them with a folded tea towel snugly like a blanket. 
Lettuce, salad leaves and spinach
Moisture is the mortal enemy of our leafy heroes. Keep them fresher for longer in the fridge in their original packaging or in a container lined with a piece of kitchen towel.
Peppers
Last up to two weeks longer in their original packaging in the fridge. Only using part of a pepper? Keep peppers perky by leaving the stalk and seeds attached, then store in the fridge. 
Celery
Can wilt as it loses water. Revive it in a refreshing bowl of ice water. And don't forget to use those lovely leaves in a stew, stock or soup!
Avocados
Are best stored in the fridge or on the counter to ripen them quickly. Only need half? Leave the stone in and sprinkle with lemon juice to prevent the other half from browning, then store in the fridge
Tips for bananas
Got green bananas? Put them next to ripe fruit
If you want to speed up the ripening process, put them in a fruit bowl with other ripe fruit (such as other ripe bananas), or wrap in a brown paper bag. For double quick ripening, add a piece of ripe fruit to the paper bag.
Now they're ripe! Time to separate them from the bunch
Separating bananas from the bunch will also keep them from ripening quickly, as will popping ripe bananas in the fridge. The skin may darken but the fruit inside will stay yellow. 
Store with under-ripe fruit
Storing ripe bananas with under-ripe fruit such as an avocado with not only slow down the banana, but speed up the avocado ripening.
Freeze them
Got a rapidly ripening banana in your fruit bowl but don't have time to use it that day? Our #FoodSavvy secret is to peel and freeze ripe bananas until you're ready to use them. 
Cook with them
The browner the banana, the more natural sugar it contains, making it a perfect ingredient for healthier treats. 
How green are bananas?
Although bananas travel thousands of miles to arrive on our supermarket shelves, their eco-credentials are not too shabby. They are grown in natural sunlight, which is kinder on the planet than energy-intensive hot housing, and are normally shipped rather than flown. Also their sturdy skin means bananas need little or no packaging. Just make sure to seek out Fairtrade or organic bunches whenever you can. 
#useyourloaf
Did you know that each day in the UK we throw away 20 million slices of bread? That's the same as throwing away 1 million loaves a day!
We've got plenty of ways to help you #useyourloaf
Store your bread the right way to cut down on the amount wasted, by following the top tips below:
store your bread in the original packaging in a cool, dark and dry location
don't keep bread in the fridge as it will go stale sooner
packaged bread can often be eaten up to a week after its best before date (unless it's gone mouldy)
bread can be frozen and stored for longer, defrost when you need a slice or even pop It straight into the toaster
Recipes to use up your loaves
Bread can be used in lots of creative meals and can be a great way of preventing stale bread from going into the bin.
Why not check out the video recipe below for overnight pecan and pear french toast.