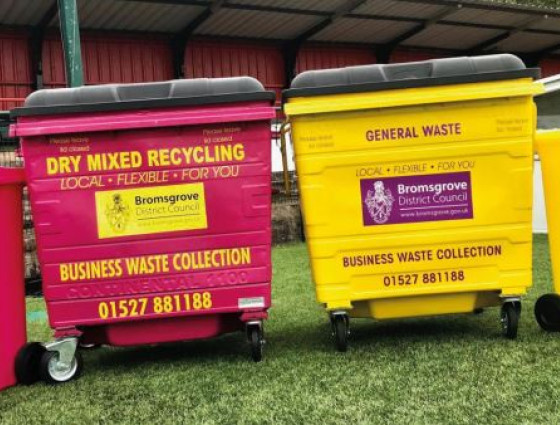 Business waste and duty of care
If you operate any form of business, you have a legal responsibility to safely contain and legally dispose of any waste produced from your business.
Are you disposing of your waste legally?
If you operate any form of business, you have a legal responsibility under the Environmental Protection Act 1990 and other related legislation to safely contain and legally dispose of any waste produced from your business.
If you don't, you can be taken to court as you are committing an offence. If you are found to be disposing of your waste illegally you will be prosecuted. The maximum penalty is a fine of £50,000 and up to 12 months imprisonment in the Magistrates Court, 5 years imprisonment and unlimited fine at the Crown Court.
The law also applies to anyone working from home such as garden clearances, packing & delivering, child minding, catering or home offices. This waste is known as commercial waste or business waste. A lot of people, especially small businesses say "but my business does not produce any waste". But what about?
Food & drink consumed on the business premises
Damaged or scrapped items
Floor sweepings, particularly if you are a hairdresser
Cleaning materials
Items used in daily running of business i.e. cotton wool, disposable gloves
Contents of litter bins; tissues, wrappers, plastic water cups & general waste that cannot be recycled
Recyclable items; plastic drinks bottles, papers/magazines, coffee jars, milk cartons, envelopes & junk mail
This is all classed as business waste as was produced as a result of commercial activities It is an offence to take it home and place it in your domestic bin, take to a Household Recycling Centre or to dispose of it any other way except in accordance with the Duty of Care. You will have to prove to the courts that you do not produce any waste whatsoever.
Businesses are required to follow the "Waste Hierarchy" and consider reducing and reusing waste before recycling, with disposal as the last option.
Disposal of waste - Two options
Option 1: Dispose of your own waste
You must be able to provide documents called 'Waste Transfer Notes' or provide some form of receipts showing:-
Where you disposed of the waste (tip location)
How much of it there was (weight)
And when it was tipped (date) and what waste was tipped (type)
You may be able to take it to a privately run waste sites that can be found in the Yellow Pages
You cannot take any form of business waste to the Household Recycling Centres. If you are found to be using these sites, you will be refused entry by the staff.
Option 2: Have someone else collect and dispose of it for you
They must be 'licensed waste carriers'
You must have filled in a form commonly known as a 'Duty of Care' with your chosen contractor. You can check with the Environment Agency that your contractor is licensed
You are committing offences and can be prosecuted if you give your waste to anyone who is not licensed to carry and dispose of controlled waste.
Does the 'Duty of Care' apply to me?
It applies to anyone who produces, stores, transports, treats and disposes of waste. You can recycle a lot of commercial waste but it still needs to be legally documented with your chosen contractor.
What do I need to do?
Make sure any waste you produce is safely stored in a suitable container. If waste is put in a bin, it needs to be closed and covered so the waste cannot escape or be interfered with. If it is put in your chosen contractor's trade bags, keep them contained and do not put them out until the time of your collection.
Whoever collects your waste, make sure they have the authority to do so. They must be registered with the Environment Agency. If it's a one off or non-regular collection, a waste transfer note must be completed. If you have a regular waste contract collection, this will normally be found on the contract you signed with your chosen waste collector. Also known as a 'Duty of Care Note".
All the district councils in Worcestershire provide trade waste collection services and some provide trade recycling services. NB: You do not have to use your district council to collect your waste, there are other contractors, which you can find via Google.
If you dispose of your own waste, you must pay for the disposal and keep all your receipts and tipping notes for at least two years.
Please note: If your business is involved in human/animal health care or related research the types of waste you produce are clinical waste and needs to be disposed of differently.
Most Important: When someone finds YOUR waste fly tipped—can you prove that YOU haven't dumped it there and that you have complied with all the requirements detailed above? If you can't, YOU may be liable to a fine up to £50,000 and up to 5 years imprisonment. Failure to produce authority (waste transfer notes) can result in a Fixed Penalty Notice of £300.00
The main misconception is that once the trade waste has been put out by a business in either bags or bins, as far as some are concerned, the waste is no longer their problem. This is completely incorrect and all producers of waste have a legal responsibility and duty for their waste until it is collected by a legal waste carrier. Often bin lids are left wide open or unlocked, bins or bags are damaged, and waste is left on the floor because the contractor failed to collect it. This is still your waste and you are liable for it. You must (by law) prevent the escape of waste by either yourselves or someone going through your waste, which is a common problem. You must ensure your bin is secured at all times. You must ensure you have the sufficient number of collections by your contractor to remove all of your waste and avoid it spilling out or to avoid your bin being overfilled
If your contractor fails to collect your waste within a reasonable period of time (no more than a few hours), you cannot leave it on the street and you must take it back inside your premises. If you have trade waste bins and your contractor has not emptied your bin, contact them at once to attend as a matter of urgency.
Most offences are caused by the businesses' own staff or contractors failing in their duties. This could be as simple as your staff not knowing the basic rules and procedures. Make sure your staff are fully trained on waste disposal and waste management. If they deal with waste, they should know what to do with it and where it goes.