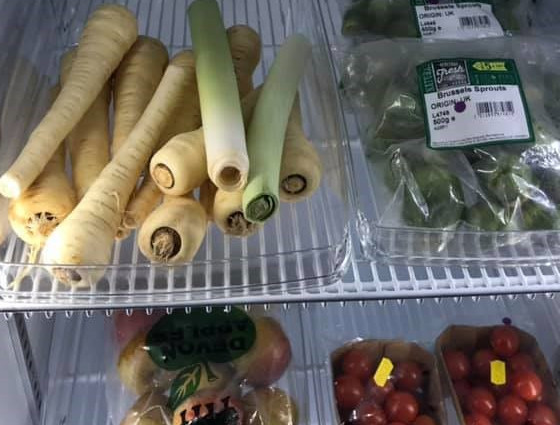 Community Fridge
Worcestershire's first community fridge is now up and running and looking for you to help the project succeed.
A Community Fridge is a space that brings people together to eat, connect, learn new skills and reduce food waste. It is a site where local people can share food, this includes surplus from supermarkets, local food businesses, producers, households and gardens. Fridges are run by community groups in shared spaces such as schools, community centres and shops, their main purpose is saving fresh food from going to waste.
The Community Fridge Network is coordinated by Hubbub and it connects fridges across the UK. It is a support network for groups running fridges to share knowledge and skills and to ask questions. The Network offers free guidance on how to set up your own fridge and provides comprehensive support, design assets, a knowledge sharing forum, health and safety templates and discounted fridges and freezers!
There are currently over 450 Community Fridges in the UK and 6 in Worcestershire. Our first Community Fridge was opened in 2019 at Upton Baptist Church and since then other community groups and organisations have set up fridges.
How does a Community Fridge work?
People donate food that is close to its 'use by' date that they know they won't use.  We are also happy to accept donations of fruit and vegetables from allotment holders and/or local shops. Businesses can also donate food that they cannot sell, but it must be fresh and close to its 'use by' date. 
You can also take the food if you see anything that you know you will use. All of this is free of charge. This is not a foodbank and there is no need to feel ashamed or embarrassed that you are using the community fridge – it is a food redistribution project to cut the amount of food waste in the town.
All food must be good for at least another 24 hours when you donate it.
The fridge will have a signing in/out sheet, so you can log what you have donated and/or taken, just so that the volunteers running the fridge can keep a track of what is going in and out of the fridge and ensure everything stays safe to eat.
Donating to the fridge
We can accept:
sealed packaged food
cheeses
fresh fruit
fresh vegetables
table sauces
pastry
unopened pasteurised milk and yoghurt
unopened fruit slices
salads
fresh eggs (traceable Lion stamped eggs with clean shells and a use-by-date)
Please note: if putting food into new or different packaging make sure the use-by-date and allergy information are transferred across.
Sorry we can't accept:
cooked food (from your home or unregistered sources)
bean sprouts
cooked rice
raw milk cheeses
unpasteurised milk
pates
products that contain any of the above ingredients
unlabelled multiple ingredient items
Location of Community Fridges
Droitwich Spa and Rural Council for Voluntary Service (DCVS), The Old Library Centre, Ombersley Street East, Droitwich WR9 8QS. See Moving Forward on Westlands Facbook page for more information.
Pershore Community Cupboard, Pershore Baptist Church, Broad Street, Pershore WR10 1AY. See the Community Cupboard website.
St Mary's Church, Sherrards Green Road, Malvern WR14 2EE. See the We are St Mary's Pickersleigh Facebook page.
Upton Baptist Church, Old Street, Upton WR8 0HN. See the Upton Baptist Church website for more information.
Worcester Community Trust, Ronkswood Hub, Canterbury Road, Worcester WR5 1PJ.
Worcester Community Trust, The Tolly Hub, Rowan Avenue, Worcester WR4 9QW.
See the Worcester Community Trust website for more information on the Ronkswood and Tolly Hubs.
There are also community pantry's at the following sites, which may have criteria for their use:
Droitwich Community Pantry, Droitwich Baptist Church, Ombersley Street East, Droitwich. See the Droitwich Community Pantry and Fridge Facebook page for more information.
Octogon Centre, Brook Farm Drive, Malvern WR14 3SQ. See the Octogan Centre Facebook page for more information.