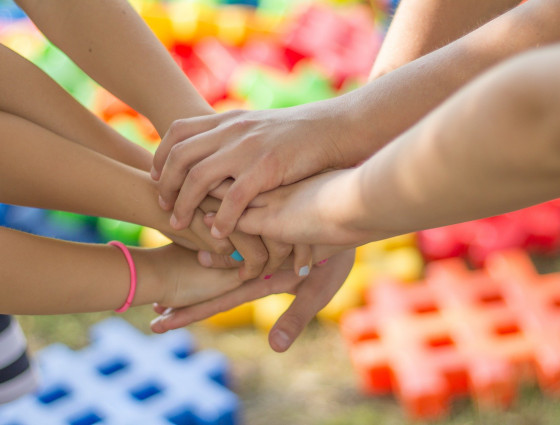 Autism and Complex Communication Needs
The team supports teachers and education professionals to meet the individual teaching, learning and wellbeing needs of autistic students in their educational setting.
The Autism and Complex Communication Needs team are qualified specialist teachers and specialist practitioners with vast experience of addressing the needs of autistic children and young people from early years to higher education.
Are you a school or setting who needs further support and guidance
Schools and settings can purchase support from our team; see below for further information on what is delivered as part of our traded offer or contact the team to discuss support and training requirements.
Complex Communication Needs Referral
Autism and Complex Communication Needs service level agreement
The Autism team can offer support and advice to help learners with autism or similarly presenting complex communication needs to achieve their full potential. We will support you to build the capacity of your setting to meet the individual needs of children and young people from Early Years to further or higher education. It is our preferred method to empower the setting – and individuals within it – to be able to continue our work beyond our direct involvement to build a setting's capacity and to benefit further young people.
Work with children and young people includes:
detailed report to identify need and strategies 
modelling specific strategies and resources 
transition support 
support with reintegration 
supporting with emotionally based shool avoidance 
study, planning and organisation skills 
individual pupil sensory profiles 
Ooe page profiles 
emotional regulation 
autism awareness mentor programme 
advice on adapting the curriculum 
Developing whole-school autism provision:
support to implement the graduated response 
school autism-friendly audit 
sensory audits 
emotional Literacy sessions 
evidence based approaches such as Lego based therapy, homunculi 
peer awareness 
development of lunchtime and after school clubs 
consultation approach to improving provision 
enabling family conversations 
parent workshops 
drop-in surgery
Our support is not limited to the solutions listed
Upon enquiry an adviser will recommend the hours required to address your specific concerns and ensure you get the best value from your SLA purchase. Schools can purchase bespoke time-based consultancy or packages of set hours. Purchase your services through our online store.
School autism champion
An ongoing training programme to develop awareness, understanding and skills in respect of effectively supporting pupils with autism in your school. 
Programme overview
autism specific training to a member of staff, who will become the school autism champion for your setting
telephone support from the Autism and CCN Team 
regular and exclusive resources and advice to share with your school, pupils and parents
access to termly champion meetings; join a community of autism champions for ongoing training and peer support
Audience
Suitable for any member of staff who is committed to developing the school's autism provision and changing the daily lives of children with autism.
The Champion is designed to be the person at school who can have autism-focused conversations with staff to help develop practice and understanding across the setting.
Programme details
All Champions receive an initial set of 3 online sessions and then termly meetings which focus on best practice and current research. Scheduled 90-minute Champion meetings will take place 3 times throughout the year. Training and meeting dates will be published and available to book via CPD online.
Autism Awareness Mentor
The Autism Awareness Mentor programme enables a member of staff to become a mentor to children within the setting with autism.
Mentors will receive the training and support to effectively deliver an individualised programme of autism awareness to a pupil. This intervention is currently undertaken by a member of the Autism and CCN team and is among some of the most powerful and effective interventions that can improve the lives of young people with a diagnosis of autism. The Autism Awareness Mentor will be able to work with the pupil to support them with their understanding of how their diagnosis affects them.
Programme overview
theory and practical training
close support from the Autism and CCN team to deliver the first full individual support programme with a pupil
ongoing support from the Autism and CCN team 
access to termly Mentor meetings, join a community of autism mentors for ongoing training and peer support
Programme details
Training will take place over set scheduled dates throughout the year in agreement with the school. Scheduled 90-minute Mentor meetings will take place 3 times throughout the year. Training and meeting dates will be published and available to book via CPD online.
The Autism Awareness Mentor programme is not to address specific difficulties, such as attendance or anxiety related responses.  It is about opening the conversation around a diagnosis of autism in a gentle and supportive way; and arriving at outcomes that provide a basis for moving forward.
Autism training for staff
The increasing number of children and young people with autism presents challenges to staff at a time when resources are stretched and school leaders face many competing demands.
An understanding of autism in schools will improve the lives of children and young people on the autism spectrum.
Our highly experienced specialist teachers and practitioners can provide training on:
autism awareness and understanding
practical and strategic training for all
levels of staff to support your school in meeting the needs of children and young people on the autism spectrum
whole class strategies
specific individualised strategies and interventions
We provide flexible, bespoke training to suit individual school needs.Training can be delivered as whole-day INSET or as twilight sessions.
To discuss your training needs
Contact the Autism and CCN team.
Email: Autism@worcschildrenfirst.org.uk
Telephone: 01905 844328
Resource: Circle of friends
Key points
key skills targeted are social and emotional, friendships and self esteem
suitable fo all age ranges
staffing implications an adult to lead activity
no resources needed
likely outcomes are greater inclusion, peer awareness and increased self esteem
Aims
to increase the level of inclusion of pupils who might currently be excluded from their peer group
to develop the social and emotional skills of those pupils identified as members of the group, for example, the ability to listen, to reflect, to evaluate, to empathize, to problem solve, to understand, identify and cope effectively with feelings (of self and others)
What is Circle of Friends?
In a 2014 study it was found that "All participants believed Circle of Friends benefitted students with ASD and their peers, as well as themselves":
Reference: Schlieder, Marylou and Maldonado, Nancy and Baltes, Beate. (2014). An investigation of "Circle of Friends" peer-mediated intervention for students with autism. The Journal of Social Change. 6. 27-40. 10.5590/JOSC.2014.06.1.04.
The 'Circle of Friends' intervention is aimed primarily at improving the inclusion of children with challenging behaviour, SEN or personal concerns within mainstream schools. It works by gathering the student's peers in a circle of friendly support to help the young person with their problem solving. This approach can also be widely used with all students who are struggling to find support or friendship.
Who will benefit?
The child who may be feeling isolated or excluded will benefit as will their peers who learn supporting and empathy skills. The school community more widely is likely to become more reflective and inclusive.
How to implement
Adults play a key part in the approach, especially at the start of the programme, but then most of the work is carried out by "the friends". Early on in the intervention, the key adult meets with the student and their chosen group for around 20 minutes per week to help them with their problem solving together as a team.
Initially, the child draws a picture of his or her circles of support, beginning with him or herself.  The child is in the center circle. The first ring around the circle includes the people closest to the focus person, usually parents and siblings. The second ring includes friends who care about the focus person and want to be involved in the process. The third ring includes the professionals who help with medical, therapeutic and educational needs and those who facilitate the planning process.
Next, the facilitator (the teacher or TA) gives a short presentation about the child's needs to the group of friends.  This may mean the child's classmates at school or a different set of peers, depending on the situation.  The presentation may be done in the presence of the child, or with the child absent if that makes the child more comfortable. At the end of the presentation, the peers are invited to volunteer to be in the Circle of Friends for the child. Around 6 is recommended.
The circle must commit to meet on a regular basis over a period of around a year, with the hope that peers will choose to remain in the circle on an extended basis. At regular meetings, the circle identifies areas in which the child needs assistance, develops creative strategies and learns how to interact effectively with the child.
Next steps
Circle of Friends provides an ongoing and cost-effective strategy for schools, because the facilitator is only needed for around 30 minutes per week, and the peers and the child apply their strategies for the rest of the week.  It's a pro-active way to help prevent bullying and build a sense of community in the school.
Resource: Homunculi
What does Homunculi mean?
Homunculi (plural of homunculus) means a very small human (or "little person).
What is the Homunculi Approach?
The Homunculi Approach is a Cognitive behavioural therapy (CBT) programme for children and young people on the Autism spectrum or with emotional and behavioural difficulties.
The approach aims to build social and emotional resilience in children and young people, especially for those with high functioning autism or Asperger's Syndrome who often have difficulty identifying troubling feelings such as anger, fear and anxiety.
As part of the Homunculi approach a child/young person is asked to invent their own Homunculi characters (agents) and stories. These Homunculi agents are used to help the child/young person tell a problem solving story in which the agents help out with real-life distressing thoughts, feelings and behaviour. The activity of storytelling helps the child/young person to learn to cope with social problems.
What is Cognitive Behavioural Therapy (CBT)?
Cognitive behavioural therapy (CBT) is a talking therapy used to help manage problems by changing the way someone thinks and behaves. It is most commonly used to treat anxiety.
Resource: School transition
Resource: Selective mutism
Key points
high levels of anxiety are present
children will often appear shy, unsure or on their guard which is in direct contrast to how they behave at home
children can also appear to be behaving in an oppositional way by resisting attempts of support, when that support is to encourage social interaction
you might also recognise children as being hyper-sensitive, perfectionists or reserved and reticent
there are things you can do and you also need to know when to ask for additional help
Information, strategies and approaches
Selective Mutism is when children or young people can understand and speak but only elect to speak freely with people they know and feel comfortable with, such as, family members and when no one else is present.
 Aims
to provide you with some initial facts and strategies to use with children and young people
to support the child through a difficult and often a distressing time in a calm and consistent way
to provide predictability in response for the child
to reduce any perceived feeling of threat that the child may be feeling
to provide reassurance through movement and body language, using few words
the child will feel supported and the adult implementing the strategies will feel they are doing something supportive and useful for the child or young person
to move the child or young person into a position where they can respond verbally when needed and build confidence
What is Selective Mutism?
selective Mutism is characterised by a consistent failure to speak in settings such as school and social situations and is understood to be a developmental, anxiety disorder
children and young people will speak in the home and other places they are comfortable
children and young people will often only speak to people they are familiar with, such as family members
it interferes with educational achievement
failure to speak is not accounted for by another communication disorder
Who will benefit?
The child or young person, their families and everyone involved in their education and care
Next steps – initial tips and strategies
you are endeavouring to equip the child with the confidence to respond verbally within an educational setting, through the reduction in their anxiety. Reducing anxiety around speaking can be achieved by providing them with understanding, reassurance and opportunities to grow and be able to respond verbally when needed
it is important to build trust through consistency of support through an adult with whom the child can become familiar with
remain calm when in the presence of the child and show the child that you are in not bothered by their difficulties
investigate whether there are certain people or places in the school where the child appears to be more comfortable and use these people and areas for when delivering interventions
provide plenty of play based activities where you can build a relationship with a young child; and craft, practical and art-based activities for older children

a strong supporter, in this case, is one who can remain quiet during activities, in the initial phase and not feel the need to comment
this will be the basis of forming a strong relationship with the child

provide opportunities to play with a quiet peer and offer support for older children through partner working with a carefully selected peer
Additional strategies
within the classroom: initially build rapport with one or two people – an adult and a peer
maintain relationships by offering consistency of approach, so the child will develop trust
ensure the child regularly works in a pair, with a peer they have built a relationship with
discover the pupil's strength's and use them as often as possible to build confidence
use social scripts and comic scripts to chat through scenarios
where relevant, refer to what is going on in the room and do not expect a response

this will support the child to feel part of the group
particularly if it is something interesting or amusing

praise the child for following rules and interaction for interaction that is not speech
encourage activities with quieter children
ask the child to do jobs for the teacher with another quiet child
do not expect responses but continue to talk, inform and direct the pupil as usual
do not show irritation or impatience when there is no response – this will make anxieties worse
do not prolong eye-contact and when a child meets your eyes return it with a brief smile and look away
do not ask direct questions as this will put pressure on the child to speak
create a pupil profile to share with all adults working with the pupil

this should contain information about the difficulty and specific guidance for supporting the pupil with Do's and Do not's

when adults working with the child are comfortable and have experience responding and the pupil is showing signs of increasing confidence, further interventions to support the child to move on can start to be implemented
Intervention is not to 'make the child speak' it is for an adult to build a relationship with the child and as the child becomes comfortable, to provide opportunities for the child to use gesture, such as pointing; and much later to provide opportunities for them to speak, using simple one word answers, such as 'yes' and 'no'.
Additional advice from the Autism/CCN Team can be provided on how school can move forward with their support for pupils with Selective Mutism.  Advice and training for individuals working with pupils can be provided.
Meet the Team
Nicholas Appleton - Specialist Teacher
Emma Bone - Specialist Teacher
Joanna Chandler - Specialist Practitioner
Colin Esrich - Specialist Teacher
Stephen Fessey - Specialist Teacher and Autism/ CCN Team Lead
Gemma Halstead - Specialist Teacher and Autism/ CCN Team Lead
Nicky James - Specialist Teacher
Sarah Summers - Specialist Teacher
Kimberly Turnbull - Specialist Teacher
Contact the Autism team on autism@worcschildrenfirst.org.uk or 01905 844328