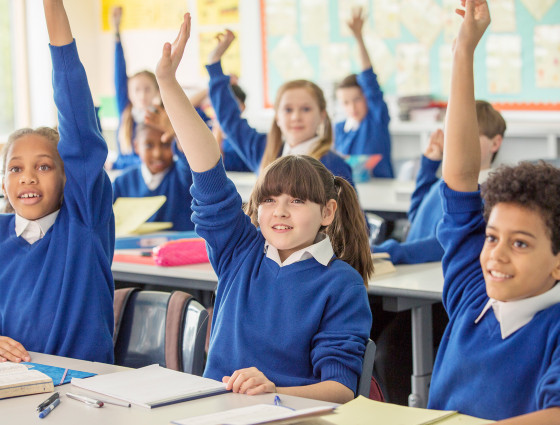 Vision Impairment
Support for babies, children and students with a visual impairment, their families and carers.
About the service
The Vision Impairment Team supports babies, children and students with a vision impairment.  Support is offered from the point of diagnosis until the child leaves education. 
As part of the service offer commissioned by the local authority, we provide assessment, teaching, monitoring and review of children and young people based on eligibility criteria. The National Sensory Impairment Partnership (NatSIP) criteria are used to help determine the level of involvement for each child/ young person.
Schools and settings can purchase additional support where the needs of the child/young person do not meet the threshold for commissioned involvement. Visit vision impairment support for further information on what is delivered as part of our traded offer.
Who Can Refer?
We will accept referrals from settings, schools, professionals and parents of children with a diagnosed or suspected vision impairment.
Resources
What does the Vision Impairment Team offer?
The Vision Impairment Team offers:
identification and assessment of functional vision in consultation with parents/carers, Health professionals and other agencies
delivery of formal and informal training
Work with parents and carers may include: 
explaining the diagnosis
giving early intervention and supporting in the home to help parents promote skills to maximise their child's access and minimise the impact of the vision impairment
offering support and advice by giving information about other agencies, benefits, support groups, specialist toys and equipment
accompanying hospital clinical assessment visits when appropriate
advising on school entry and phase transfer
Work with schools and settings may include: 
assessing functional vision 
providing detailed reports outlining strategies for inclusion
advising settings regarding the graduated response and any appropriate additional or enhanced support
teaching specialist skills such as Braille
delivering formal and informal training to settings
undertaking environmental adaptations audits and advising on safer access 
providing advice for access arrangements in examinations
delivering bespoke packages of work eg touch typing
advising on curriculum access and resourcing
delivering mobility, habilitation and independent living skills
checking access and inclusion for pupils with a vision impairment through observations and meetings
contributing to advice and targets for Education Health and Care Plans, Individual Education Plans and annual reviews
supporting school-based TAs with specialist knowledge
providing transition packages appropriate to the needs of the child 
attending multi-professional meetings to support inclusion
advising on specialist equipment and supporting its use in settings
What people have to say about us:
Parent: "Without the input of the QTVI, my child would have not succeeded in mainstream education.  They have provided vital support to school, TAs, myself and my child.  They have taught others how to best support my child mentally, practically, educationally and socially.  The have help provide extra teaching and resources to support my child's learning. They have helped me as a parent and given me understanding in areas I knew nothing about and pointed me to helpful charities etc along the way."
Sensory Impairment traded offer
In addition to the commissioned work we do with higher needs pupils, the sensory impairment team offers traded support to mainstream/special school pupils with a low impact, mild loss, or in independent, specialist, post-16 or out of county settings. This can include support from Teachers with the mandatory specialist qualification in vision/hearing/multisensory impairment, skilled specialist Teaching Assistants, Educational Audiologist and a qualified Habilitation Specialist.
Our traded service offers practical support, training and targeted strategies, to deliver services in order to close the gap between children with sensory impairments and their peers and remove barriers to learning for children and young people (0-25 years) with diagnosed or suspected sensory impairments.
Our traded service for schools and settings may include:
Specialised Assessment and Reporting
assessment and support of learners with mild, low impact or suspected sensory impairment to close the gap between their attainment and that of their peers
SEN adaptations and environmental audits of the school environment, ensuring best practice and preparedness for teaching vulnerable groups
functional vision/hearing screening of children with suspected vision difficulties
examinations access arrangements assessment and supporting documentation
Strategic Advice
ICT advice for inclusion
input into writing of personal fire evacuation plans (PEPs)
specialist risk assessment advice for trips and off-site activities for addition to school's own generic risk assessments
Screening
whole group screening to identify potential sensory loss
Transition
best practice transition advice for vulnerable groups
Curriculum Advice
delivery of peer awareness across whole schools
delivery of curriculum units such as "senses" and citizenship with resources and support for teaching staff
Training
braille competency in education course and examination
resource modification, specialist technology and curriculum planning
sensory impairment awareness
Our support is not limited to the solutions listed and can be tailored to the needs of the pupil and setting.
Service packages
Schools are able to purchase specialist support for hearing impairment, vision impairment and multi-sensory impairment requirements as part of a Sensory Impairment SLA.
 
Braille Competency in Education Test
Staff supporting children and young people with vision impairments in schools and settings can take a low-cost, education-focussed Braille competency test, designed specifically to meet the needs of educational Braille use.
What is involved?
The competency test includes practical educational Braille tasks relevant to classroom practice including Maths Braille
Why undertake the Braille Competency Test?
meet qualification requirements for supporting children and young people with EHCPs
raise outcomes for Braillists in schools and settings
demonstrate your Braille competency for educational use
this is the only available test aimed at support staff in school and settings and is assessed by qualified specialist practitioners
On passing the Braille competency test you will receive a certificate issued by the Sensory Impairment Team – a trusted and respected service with a proven track record of Braille support and knowledge.
 
Top tips for supporting pupils with a vision impairment
Planning
ensure support staff have time to modify materials before the lesson
find alternatives that avoid relying on visual learning (the QTVI can advise)
Resourcing
prepare worksheets in an appropriate font and size (the QTVI can advise)
ensure the child/ young person always has their own copy so they can view at their preferred angle and distance
when enlarging, do two sheets of A4 rather than A3 so it's a more manageable size
reduce the visual "clutter". Good contrast, high quality copies will give best access
Teaching
use all the senses, verbalise key info and have real objects and artefacts whenever possible
seat the child in the position advised by their QTVI (this is not always at the front or in the middle)
please ensure the child or young person is seated with a friend when they are using any specialist equipment
be aware of background noise as this will affect ability to concentrate
give extra time, if needed, to process information and complete tasks
In class
avoid moving things around and walk through any necessary changes to classroom layout with the child or young person 
consider whether they will be better off using the monitor or an iPad rather than viewing the whiteboard
bright light is not always good light, use blinds to cut glare and always ensure the teacher faces the source of light
Ask your QTVI – we are here to help!
Tips and play strategies for children with a vision impairment
Children learn best through the first-hand experiences that they have in their play. The play needs of a child with a vision impairment are essentially the same as those without, and should follow the same developmental pattern, even where development is delayed. However, a child's vision impairment may affect how they choose to play – for example, children may use and play with language rather than objects or vice versa in their imaginative play because the other offers little feedback.
The tips below can help encourage your child to extend their play:
give children plenty of time to explore new things
all children need the opportunity to experience challenges, risks and excitement in a way that is appropriate for them
observe and listen to a child's reactions to work out what stimulates and interests them and what they enjoy
children need to be alert to play and enjoy the challenge of new things. If they are tired or unwell then try less demanding or familiar activities
encourage, support and extend their play with objects/ language, but also be willing to leave them when they have had enough!
consider colour, contrast, lighting, and use of plain backgrounds. Try to find out if the child sees better on one side, or if objects should be presented in a particular position
make sure that the child is in the most suitable position to use their hands and eyes to best advantage, whether seated, standing or lying
define and limit the play space around the child to create a "den" or familiar "safe and quiet" place to play when needed
keep toys within easy reach so that the child's movements can create an effect. For example, suspend toys above children lying down
if objects roll out of reach, try to take the child to the object, rather than bringing the object back to the child as this will encourage them to explore
allow a child to explore objects with their mouth and feet, as well as encouraging the use of hands
use language that is simple, short and descriptive, and relates to what the child is doing or the object they hold
if the child has repetitive behaviours, try to develop them into a more creative activity
make sure you have joint attention. Talk about the object the child is looking at or playing with
keep background noise to a minimum to encourage attention and reduce distractions
comment on what a child is doing when they are playing so you are giving them the language associated with their play
get down to the child's level so they can see your face as clearly as possible
make sure the light is on your face when talking to your child, so do not play in front of a window with the light behind you
Choosing toys for your child
Sometimes you don't need toys. You can make a language opportunity out of everyday activities. For example, sorting the washing out using all the appropriate language or making a cake together. Singing and nursery rhymes offer your child the opportunity to play with language, and the rhythm and rhyme will help develop their early language.
Real objects and home-made equipment encourage play and exploration, offering lots of opportunities for free play. For example, you can make a treasure basket containing real, everyday items, such as a bunch of keys, paper, ribbons, a wooden egg cup or a piece of fruit. Choose things that vary in weight, size, texture, colour, taste, temperature and sound. Objects used in the basket should be washable, disposable or replaceable. The child will soon demonstrate their likes and dislikes while playing with the basket.
Fill a suitcase with carefully chosen real objects. For example, mittens, hat, wooden spoons, sponge, cup, balls of different textures and sizes, a hairbrush, comb, slippers, zip, ribbon, purse, handbag and so on. Children will love rummaging through the suitcase. You can encourage lots of discussion about each object, for example what it feels like, what it does, what it is made of and so on. Fancy dress offers similar opportunities to both explore the purpose of an item and to develop language through role play.
As you can see, special toys really are not essential but if you are buying toys, there may be features which make them more appealing to the child or which offer greater opportunities for development.
Look for these features:
good colour and tone contrast
bold and clear lettering
fluorescent or light-reflecting
encourages development of hand-eye co-ordination
encourages good co-ordination of hands, using both hands together
encourages development of fine motor control
children are encouraged to use their eyes to follow the toy
interesting texture offering some variety to touch
moving parts
discrete pieces which can be discriminated by touch 
switches are recognisable by touch as on or off, and click when operated 
cause and effect is clearly demonstrated
makes a sound or other cue to an action having occurred
encourages physical play, for example running, jumping
encourages development of sense of smell
Meet the sensory impairment team
We work with parent/carers, schools and settings to promote inclusive practice and positive outcomes for children and young people with vision (VI), hearing (HI) and multisensory (MSI) impairments. Teachers in the team have had substantial class teaching experience prior to gaining specialist mandatory qualifications, meaning we can offer realistic and achievable solutions, tailored to the needs of the child and the demands of the curriculum. We also benefit from an Educational Audiologist, Habilitation Specialist, and Peripatetic Teaching Assistants, all of whom hold specialist professional qualifications.
What people have to say about us:
Parent:
"you have an amazing professional team … it's been a huge learning curve for us all but (you) navigated our journey beautifully… I feel assured (he) will have the best chance in life to access his education and that means so much".
Settings:
"Fantastic delivery, really helpful"
"I feel much more confident that I can deliver support"