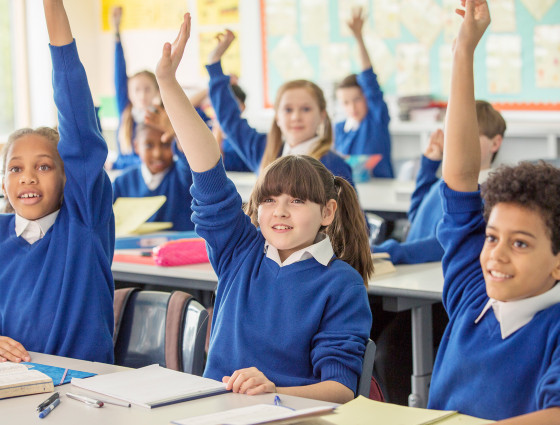 Hearing Impairment
Provides advice and support throughout the county regarding the educational needs of hearing impaired children.
The Hearing Impairment team offers support from Teachers of the Deaf (QToDs), an Educational Audiologist and peripatetic Specialist Teaching Assistants. All have extensive experience of working with Deaf CYP from birth to 25 years, with a range of communication methods (including sign language) to overcome barriers to learning. Support is offered from the point of diagnosis until the child leaves education.
As part of the service offer commissioned by the local authority, we provide assessment, teaching, monitoring and review of children and young people based on eligibility criteria. Schools, settings and families are offered practical support and targeted strategies, to remove the barriers to learning close and maximize each child's potential.  The National Sensory Impairment Partnership (NatSIP) criteria and teacher assessment are used to help determine the level of involvement for each child /young person.
Schools and settings can purchase additional support where the needs of the child/young person do not meet the threshold for commissioned involvement. Visit the sensory impairment support tab for further information on what is delivered as part of our traded offer.
Who Can Refer?
We will accept referrals from settings, schools, professionals and parents of children with a diagnosed or suspected vision impairment.
Resources
What does the Hearing Impairment Team offer?
Work with parents and carers by:
identification and assessment of functional hearing in consultation with parents/carers, Health professionals and other agencies
explaining the diagnosis
giving early intervention and supporting in the home to help parents promote language and play skills to maximise their child's access and minimise the impact of the hearing impairment 
advice and assessment of equipment use from a qualified audiologist
quality assurance of all equipment used
offering support and advice by giving information about other agencies, benefits, support groups, specialist toys and equipment
accompanying hospital clinical assessment visits when appropriate
advising on school entry and phase transfer
supporting with multi-agency work such as Cochlear implantation and Speech and Language Therapy (SLT)
informal training
Work with schools and settings may include: 
assessing functional hearing
quality assurance of amplification systems (radio aids, sound field systems and hearing aids) including reviewing effectiveness of aided hearing
providing support plans outlining child needs and equipment use. 
providing detailed reports outlining strategies for inclusion.
advising settings regarding the graduated response and any appropriate additional or enhanced support
supporting with communication and early language development.
advising on software to enhance inclusion and language development.
delivering formal and informal Deaf awareness training to settings
undertaking acoustic checks and advising on improved listening environments  
providing advice for access arrangements in examinations
delivering bespoke packages of work e.g. communication using sign language
advising on curriculum access and resourcing
checking access and inclusion for pupils with a hearing impairment through observations, feedback and meetings
contributing to advice and targets for Education Health and Care Plans, Individual Educational Plans, SLT reports and annual reviews.
supporting school-based TAs with specialist knowledge
providing training for school-based TAs.
providing transition packages appropriate to the needs of the child
working with cochlear implant teams to support the implantation process and rehabilitation. 
attending multi-professional meetings to support inclusion
What people have to say about us:
Parent: "We have noticed a huge difference since we have (the QToD) on board. We feel incredibly lucky and privileged to have her advice and support. Without her we feel that our journey would have been much more difficult and we wouldn't have such a good understanding of our child's needs. We are eternally grateful to her for everything she has done for our family."
Top tips for supporting deaf pupils
Planning
ensure support staff have time to modify materials before the lesson
find alternatives that avoid relying on aural learning – the QTOD can advise 
Resourcing
prepare worksheets with a visual support. The QTOD can advise
ensure the child/young person always has their own copy so they can refer back to the information.
try to use as much visual support and reinforcement as possible – photographs, diagrams, gestures, facial expressions, visual time-table.
always write keywords and new vocabulary on the board. 
Teaching
speak normally and clearly, at a normal volume, not too fast and not too slow. Try to keep listening down to short stretches.
always repeat other pupil's answers, comments or questions.
identify the speaker, by pointing or by name
give extra time, if needed, to process information and complete tasks
In class
ensure that deaf pupils are seated so that they can see and hear you easily.
make sure the child is paying attention before you speak.
keep background noise to a minimum.  (Noise from scraping chairs, heaters, squeaky board pens, computers, projectors, nearby classrooms).
don't stand in front of a window or bright light as this will put your face in shadow.
it is impossible for deaf pupils who lip-read to listen and write and watch demonstrations at the same time.
try not to walk around too much whilst speaking. 
don't face the board to write and talk at the same time.
if the pupil uses specialist equipment check with the QTOD on best practice.
lip-reading and trying to hear requires heavy concentration
Ask your QTOD - we are here to help!
Tips and play strategies for children who are deaf
Every deaf child has different levels of deafness and different ways of communicating:
Children learn best through the first hand experiences that they have in their play. The play needs of a child who are deaf are essentially the same as those without, and should follow the same developmental pattern, even where development is delayed. However, a child's deafness may affect how they choose to play – for example, children may use and play with objects rather than language or vice versa in their imaginative play because the other offers little feedback.
It is important to remember to have fun and play! Every game you play, every activity you do with your child or every walk you go on is a lesson and a great opportunity for your child to learn something new.
respond to your child and take their lead in play. Use your voice and touch to gain your child's attention
make your voice fun to listen to - with lots of ups and downs, use facial expressions and gestures to support your speech
try singing when you feed, change, bath or play with you child - nearly all your daily routines can be made into playtime
repetitive swinging, rocking, moving limbs with songs and rhymes while doing daily activities
copy your child's initiatives - eye gaze, burps, giggles, responses to sound or active play, children respond more to people who mimic them
play in an environment with good listening conditions
try to find somewhere quiet with minimal background noise
soft furnishings will help to improve the acoustics
talk and play close to your so that they can easily pick up your voice
make sure your child knows you are talking to her - make sure you have joint attention
talk about the object the child is looking at or playing with - smiles show you are enjoying it too
comment on what a child is doing when they are playing so you are giving them the language associated with their play
get down to the child's level so they can see your face as clearly as possible
make sure the light is on your face when talking to your child, so do not play in front of a window with the light behind you
When sharing a story, think about how you're sitting; can your child clearly see your face?
sitting at the same level or angle as the child can be helpful as it can help you keep your child's attention and have good eye contact
try to make sure there's enough light where you're sitting so your child can see the book and your face clearly
Games that will encourage attending and listening
Some of these activities will be useful when your child is a baby, some as your child gets older:
routine songs; counting games; things you say and activities you do as you change, dress, feed, wash your child
the more repetitive you are, the more it all makes sense
play with sound making toys- but don't let sound making toys mask out your voice
pause when you are about to say something so your child is ready to listen
always be alert to sounds around and draw your child's attention to them
talk lots about what you are doing and react to your child's reactions
talk about what your child is attending to
play tickle games
repetitive peek-a-boo games
hiding/ finding games
encourage turn taking
offer turns in your conversation - waiting for child to take a turn
give your child plenty of time to reply
play participation games when your child joins in
action rhymes will help your child to be involved  
anticipation games – so your child learns to expect something is going to happen (a tickle, a cuddle, a boo, ready, steady….go!)
sharing books and the same ones again and again - you will be sharing the same focus and so it is clear about what you are saying
sharing them again and again will allow the same language to be used and help your child to anticipate and wait for the sound and action or participate in the expected action
 
Choosing toys for your child
Sometimes you don't need toys. You can make a language opportunity out of everyday activities. For example, sorting the washing out using all the appropriate language or making a cake together. Singing and nursery rhymes offer your child the opportunity to play with language, and the rhythm and rhyme will help develop their early language.
Special toys really are not essential but if you are buying toys, Check the age warnings and recommendations on toys to find ones that are appropriate for your child's age and level of development.
Toys which make noises may be useful for your child to learn about different sounds, which can help develop their listening skills. This can also be beneficial for awareness, attention, differentiating and recognising sounds.
It can also be important for children to recognise themselves in the toys they're playing with. Various toys on the market now have cochlear implants or hearing aids. There is also a wide range of children's book which feature deaf characters and sign language.
Make Time 2 Play is a not-for-profit campaign helping to give a little inspiration so that everyone can make time to play.