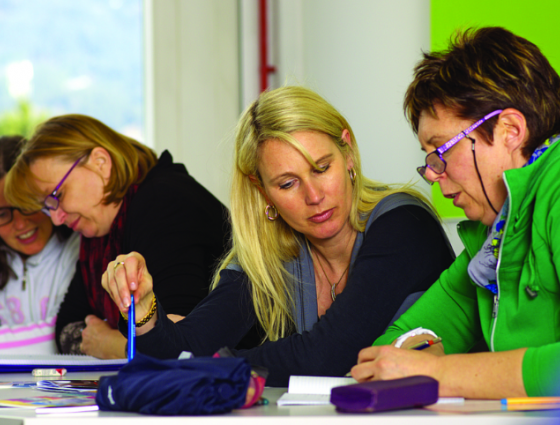 Working in partnership
Our advisers, associates, project and programme managers are highly aware of the regional and local context in which educators work in the West Midlands.
We share your ambitions and wish to support you in the provision of excellent services for children and young people.
We are aware of the specific needs of our key audiences so have developed specialist services that take account of the financial and time pressures facing schools. We continue to provide innovative and collaborative solutions – developing partnerships with external providers as well as brokering joint-school workshops for senior and middle leaders and capacity building support for those who review and develop teaching with colleagues in schools.
Schools, Academies and Colleges
Our work with schools, colleges and academies is central to our mission to help improve the lives and life chances of children and young people.
School improvement
We seek to help improve local capacity for a school-led improvement system. We can provide a valuable 'external view' for individual schools and increasingly, across groups of schools. This may be through a quality assurance visit to discuss and test out a school's self-evaluation or through a moderated peer-review process across a triad of schools. Our team of advisers continually adapt and develop our schools offer, led by Jane Howard, our Programmes and Training Lead, to ensure it is innovative and fit for purpose. Of particular focus in the current offer are our:
leadership development programmes and consultancy
aiming for Outstanding school improvement seminars for governors, senior and middle leaders
specialist reviews and consultancy governance, inclusion and Early Years
programme of training to support schools and academies further improve teaching and learning in order to raise standards in English and mathematics
consultancy on Curriculum Development, with an eye on developments for the Ofsted Framework 2019
support for providers delivering Key Stages 3 to 5 for example middle deemed secondary, high schools (both maintained and academies), sixth-form colleges
range of business support services, for example, support for the provision of finance, human resources, ICT management
Inclusion, specialist intervention and support
At the core of our work with schools, is our mission to aid schools in supporting disadvantaged and vulnerable children and young people. The key facets of this offer include:
prevention and early help providing specialist services in the critical early years of a child's life
our work to promote inclusion expert adviser led SEND Health Checks, Pupil Premium Reviews and Inclusion Leader development
specialist intervention and support a range of specific training and consultancy in relation to each area of SEND need cognition and learning, communication and interaction, social, emotional and mental health difficulties and sensory and physical needs, we work closely with key leaders, teachers and learning support teams
General Data Protection and Regulation we offer solutions for schools in partnership with an experienced public sector data protection consultancy business at two levels: light support and core support
services in relation to safeguarding children in schools and settings; for example, the provision of an external audit and related help with action planning and implementation
welfare and attendance we provide specific services to help schools with attendance profiling and education welfare
Multi Academy Trusts
As schools in the region have converted to become academies and joined multi-academy trusts, some specific needs have arisen. We are currently working with MATs within the region to help them secure their capacity as self-directing entities, to include;
school improvement support for:

developing curriculum
ICT services
practice in terms of support for pupils with SEND
inclusion and behaviour
teaching and learning
leadership and management within an academy and across the trust
the provision of an 'external view'
school improvement services delivered to each academy individually or collectively as required, including preparation for Ofsted inspection

business management and change management:

developing business plans
evolving central support teams
policies and services to achieve a shared trust wide focus and delver economies of scale

financial management :

budget forecasting
managing monthly accounts and annual planning

governance and professional development for executive leaders:

delivering on your statutory responsibilities as a MAT
what makes an effective board' governance reviews for evolving MATs based on a best practice evaluative framework,
strategic planning
the development of central teams and services
also, consultancy and training for MAT Chief Executive Officers (CEOs)
School partnerships
There are numerous benefits to schools commissioning improvement services collectively. At this time, funding for individual schools remains challenging. It has never been more important than now for schools, including those who have been performing well over time but perhaps now face re-inspection, to secure an 'external view' of their own self-evaluation. Education Services recognises that when money and indeed time is short, new ways of working are required. In 2017 to 18, Education advisers worked successfully with groups of schools to provide highly regarded seminars for governors, senior leaders and middle leaders. Of huge benefit to this approach was that colleagues were able to benchmark their own approaches with those adopted in other schools and to learn from each other. Feedback from such sessions has been consistently positive.
We recognise the need now to enter into dialogue with Headteacher representatives about the collective needs their cluster of schools may have. These may include one or more of the following facets;
governance, leadership and management
curriculum, teaching and learning
assessment and moderation
safeguarding, welfare and pupils' personal development.
school Partnership working development
Jane Howard, our Programmes and Training Lead, (or a District School Improvement Adviser) would be happy to talk to you about how we might;
draw together a package of support that meets your collective needs, to perhaps combine facets of Education Services external training offer, off-site collective consultancy and in-school support for each partner organisation
secure economies of scale in terms of the charges for this package, along with ways of minimizing teaching time lost and maximising the impact of support on subsequent practice and outcomes
Teaching school alliances
Education Services recognises that the teaching school alliances within Worcestershire Teaching Schools play a central role in developing school improvement capacity within the county. We work closely with its strategic board in the co-delivery of two core improvement programmes, namely;
the Strategic School Improvement Fund programme Unlocking the Curriculum- raising outcomes for disadvantaged pupils' and
the National Professional Qualifications (NPQ) suite of programmes for middle and senior leaders, headteachers and executive leaders.
We will continue with this co-delivery in 2018 to 2019. This year and beyond, we work closely in providing additional school-to-school support for those institutions requiring time-limited, additional help. In respect of LA-maintained schools in need, we will commission and broker the services of National, Local, Specialist Leaders in Education and also National Leaders in Governance.
Alongside our partnership working for wider school improvement, Education Services is able to offer support for teaching school alliance members in respect of their own CPD, training and school development priorities. This may be about supporting its outreach team with their own needs or ensuring the outreach school itself continues to perform to outstanding levels.
We will be able to offer development on a range of themes; senior and middle leader development, school review, curriculum design or performance management. An alliance would select the programme(s), consultancy required, host the activity to reduce costs and be assigned an alliance offer lead to oversee delivery of the agreed support.
For teaching school alliances within but also beyond Worcestershire too, we are additionally able to offer:
the full range of tailored advisory
consultancy, in-school training
offsite CPD training courses detailed in our directory
We will provide local access to this offer
delivering economies of scale by offering at very competitive prices to alliance members