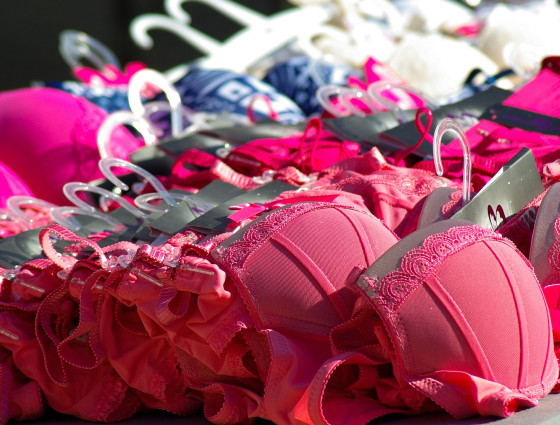 Bra recycling
Now you can recycle your bras and raise money for the Breast Haven Unit at Worcestershire Royal Hospital at the same time.
Bra recycling banks
There are a number of bra recycling banks across the county where you can take your bras.  Those in good condition are sold to Africa where they are a luxury for most women.  Those that are a bit tatty will be stripped down and the materials recycled. 
Whatever condition it is in, your bra will be raising vital funds to help those with breast cancer in Worcestershire.
The sites of the banks are:
Abbey Stadium, Birmingham Road, Redditch B97 6EJ
Alvechurch Library, Birmingham Road, Alvechurch B48 7TA
Bromsgrove District Council, Parkside, Market Street, Bromsgrove B61 8DA
Bromsgrove Sewing Studio, 17 Worcester Road, Bromsgrove B61 7DL
David Lloyd Club, Warriors Way, Worcester WR3 8ZE
Evesham Library, Oat Street, Evesham WR11 4PJ
(Jane Newman Financial Planning) Gaude Luce Golf Club Middle Lane, Hadzor, Droitwich WR9 7JR
Holland House, Main Street, Cropthorne, Pershore WR10 3NB
Inspire, 14 High Street, Droitwich WR9 8EW
Isabella Rose Lingerie, 29 Broad Street. Pershore WR10 1BB
Jane Newman Financial Planning, 10 St Andrew's Road, Droitwich WR9 8DN
Malvern Hills District Council, Avenue Road, Malvern WR14 3AF
Malvern Splash, Priory Road, Malvern WR14 3DS
Perdiswell Leisure Centre, Bilford Road, Worcester WR3 8DX
Redditch Borough Council, Town Hall, Walter Stranz Square, Redditch B98 9AH
Sport Dyson Perrins Leisure Centre, Yates, Hay Road, Malvern WR14 1WD
Tesco Superstore, St Peter's Drive, St Peter's Worcester WR5 3SW
Tesco Superstore, Mill Wood Drive, Warndon Villages, Worcester WR4 0UJ
Upton Baptist Church, Old Street, Upton-upon-Severn WR8 0HN
Worcester City Council, The Guildhall, High Street, Worcester WR1 2EY
Worcestershire Breast Haven Unit, Worcestershire Royal Hospital, WR5 1DD
Worcestershire County Council, County Hall, Worcester WR5 2NP
Wyre Forest District Council, Wyre Forest House, Finepoint Way, Kidderminster DY11 7WF*
Wyre Forest Leisure Centre, Stourport Road, Kidderminster DY11 7DT
* banks are for staff at that building only