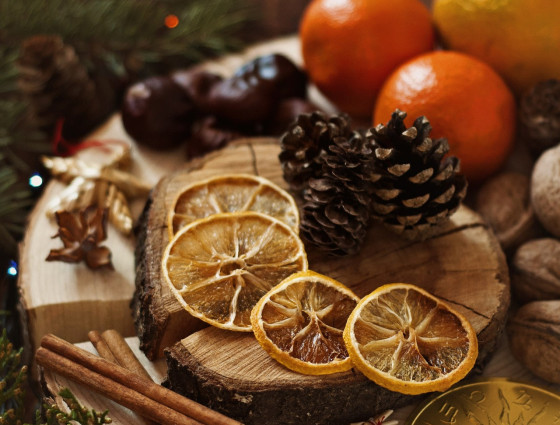 How to have a #SavvyChristmas
Christmas is delicious, don't waste it!
Preparations are underway for Christmas, and with budgets a little tighter this year, we have lots of tips to help you save money and prevent food waste. From that first festive bite of a mince pie, we have you covered on all things food and savvy.
To make the most of any leftover food this Christmas, you can download and save a range of Christmas recipes through the following link, Christmas recipes (PDF)
4 ways to save on your Christmas food bill
Across the UK, over 6 million tonnes of food waste is generated over Christmas. This year, let's have a savvy Christmas and make sure we use everything we buy, save some cash, and do our bit for the planet.
Minimising food waste during the festive season doesn't have to be a chore. With a pinch of planning and a spoonful of knowledge, Christmas can cost less and leave you plenty of time for festive TV and board games.
1) write a list and check it twice
We can all be guilty of last-minute shopping in the festive season and often we end up with more than we need. Use our handy meal planner for delicious dinners throughout the festive period.
2) make friends with your freezer
During the holidays, your freezer will become your greatest asset. By freezing you can avoid the endless turkey sandwiches on Boxing Day. Get the leftovers into the fridge or freezer, in a sealed container, within 2 hours if you can. They will stay fresh in the fridge for up to 2 days, put them in the freezer if you need more time.
3) keep it seasonal
Seasonal veg is often cheaper and easier to find. If you have a farmers' market nearby, head there for locally grown produce. Winter vegetables aren't just limited to parsnips, turnips and potatoes. You can find colourful butternut squashes, versatile cauliflower, leeks, beetroot and kale. 
4) share the load
Why not make the most of your loved ones' generosity and ask family and friends to contribute to dinner and then offload some of the leftovers in return. If there's still too much food to handle, why not share it out, or try out apps such as Olio, to share food with those nearby.
Savvy Christmas swaps
Christmas can be expensive, so why not try some of our #SavvySwaps. Start planning now so you can enjoy Christmas dinner without the worry of going over budget.
swap traditions, ask guests to contribute and bring their favourite food, desert or drinks 
swap expensive shop bought starters with a festive homemade soup. You can use up any vegetables you might have in your freezer. Try this delicious pea and mint soup from BBC Good Food, pea and mint soup recipe
instead of smoked salmon, use salmon trimmings to make a delicious pate. Try this pate recipe from BBC Good Food, smoked salmon, dill and lemon pate recipe
turkey is a favourite at Christmas, but you can swap it for cheaper alternatives like chicken or a different type of meat
homemade food really does taste good, so why not swap bought mince pies, sausage rolls, sweets and roasted nuts and make your own
have one showstopper desert rather than a large selection. Try this gorgeous Chocolate & Orange Cheesecake from BBC Good Food, chocolate orange baked cheesecake recipe
stick to three courses for Christmas lunch instead of going all out. You'll spend less and waste less!
Portion like a Christmas pro
For many, Christmas dinner is the biggest food event of the year, but that doesn't have to mean mountains of food waste. Get savvy by working out the amount of turkey, potatoes and vegetables you'll need to feed yourself, or family and friends. Think about any leftovers you'd like to enjoy later so you can measure these out accordingly. Dust off your scales, let's get measuring.
Turkey
An average portion of cooked turkey per person should be 140-175 grams, but as you tend to buy turkey as a whole it's easiest to use the turkey guide below.
turkey crown (2-2.5 kilograms) will feed 6 people
small turkey (3-4.5 kilograms) will feed 6-8 people
medium turkey (4-5 kilograms) will feed 8-10 people
large (5-5.5 kilograms) will feed 10-12 people
extra-large (6-6.5 kilograms) will feed 12 -15 people
Roast potatoes 
The ultimate crispy, fluffy, tasty potato, no Christmas dinner would be complete without roast potatoes. 
Make 250 grams per person, you'll need 2 kilograms for 8 people. 
Stuffing
Feeling stuffed? If you're buying stuffing, we recommend at least 100 grams per person or 2-3 balls, so to feed 8 people you'll need around 800 grams.
Don't want to be left with sprouts?
Sprouts are like Marmite, cook more if you love them, don't cook any if you hate them.
We recommend cooking 80 grams per person, 650 grams for 8 people.
Carrots
Not just for Reindeers, 80 grams per person is a good serving, you'll need roughly 800 grams for 8 people.
Pigs in blankets
The ultimate Christmas delight, we recommend 2-3 per person, so don't leave any pigs without blankets this festive season.  
It's all gravy…
With gravy, make a minimum of 125 millilitres per person, that's 1 litre for 8 people. But, if you or your family are all about the gravy then prepare a little more.  
All the weights are given prior to preparation and cooking, if you have guests coming, simply multiply by the number of guests. If you've got big eaters or want leftovers, then go for the higher of the 2 amounts for meat and roast potatoes. 
Festive freeze
This Christmas, your freezer is your best friend. Freezing food can save up to £250 per year, but fridges and freezers can cost quite a lot of money to run, so make sure you are using yours as efficiently as possible, have a look at the energy saving freezer hacks below
have a freezer clear out. Over the coming weeks, eat up some of the food in your freezer and make space for Christmas goodies
you can freeze most your Christmas food, mince pies, turkey, potatoes or leftover gravy, freeze ahead of time or to enjoy another day
Cooked turkey
Prepare for freezing by putting your cooked (and cooled) turkey onto a piece of baking parchment on a flat tray. Put the tray in the freezer flat and allow to freeze for 1 hour.
Then, transfer frozen turkey pieces to a labelled freezer bag, squeeze air out and place back into the freezer. This can be kept for 4 months, (always add a label). To thaw out frozen turkey, defrost it in the fridge overnight. 
What else can be frozen from your Christmas dinner?
For freeze-ahead roast potatoes: 
1) peel and chop into equal sizes. Put in cold salted water, bring to the boil, and then boil for 6 mins
2) drain and leave to cool for a few minutes. Toss in a colander to rough up the sides, then transfer to a large bowl
3) shake over some flour, salt and pepper, and toss well to combine. Spoon over 100 grams of fat (butter, oil, goose fat) to coat evenly. Lay the potatoes on a tray lined with baking parchment and freeze. Once frozen, transfer the potatoes into a freezer bag for easy storage. Can be frozen for up to 3 months.
4) when ready to cook, heat the oven to 200 degree Celsius or 180 degree Celsius for a fan oven, gas mark 6. Pour fat and oil into a baking tray and put in the oven. When the fat is sizzling, carefully add the potatoes, then roast for 25 mins. Remove tray then increase oven to 220 degree Celsius, or 200 degree Celsius for a fan oven, gas mark 7. Turn the potatoes and return to the oven for a further 40 mins until golden and crisp. 
Mince pies
You can freeze homemade, but not shop bought mince pies. When it comes to big branded mince pies, it seems in some cases they have frozen their mince pies already in the past and so it's advised they shouldn't be refrozen. Have a go at making your own with a few quick cheats using pre-made pastry and a jar of mincemeat.
Stuffing
You can pre-freeze stuffing. If you've got time on your hands, you can make it yourself, but if you're short of time, you can also freeze ready-made stuffing that you make with water. TOP TIP:  if freezing ready-made stuffing make sure to open it and roll into balls for smaller portions instead of simply freezing the whole block.
Gravy
Whether you're making your own gravy, or buying ready made from the shop, freezing is a great way to make sure you're all stocked up for Christmas. Get a freezable bag and pour your cooled gravy into it from a measuring jug. Seal and lay the bag flat on a tray and freeze. Defrost in a dish of cold water, then pour out of the bag and reheat.
Yorkshire pudding
For homemade Yorkshires, freezing is a great way to have them on tap, just cook a big batch once and freeze the leftovers. Shop bought Yorkshires are already frozen and are perfect for taking as many as you need when you need them.
Carrots
Wash, slice, dry and then blanch for 2-3 minutes, drain and then place them into ice cold water, drain, dry and then place on a lined tray. Freeze for 2 hours then place in a freezer bag. You can then cook, steam, boil, fry or roast from frozen.
 
Get crafty this Christmas
If you're looking for crafty ideas to channel that festive energy then look no further, we have plenty of tips for homemade crafts. 
Natural tree decorations
You don't need to spend loads on new decorations each year, there's tonnes of fun (and plastic free) things you can make at home. Did you know 800,000 apples get thrown away every day? Getting creative with fruit that's no longer good to eat, is a great way to save it from the bin while making something beautiful in the process.
Have a look at this tutorial on drying fruit for your festive decorations, citrus fruit festive decorations
Natural wreaths
To burn off any festive energy, combine wreath making with a big outdoor walk, collect sticks, twigs and dried leaves to create your own natural wreath, also doubles as a great crafting activity to do with kids, see the following link for a tutorial on how to create your own wreath, DIY twig wreath (YouTube)
Paper chains 
Old school paper chains can be made from recycled newspapers, carol or song sheets or old wrapping paper. Have a look at this easy how to guide to create your own, festive paper chain decorations
Snowflakes
Dreaming of a white Christmas? Have a go at making these snowflakes decorations, how to make easy paper snowflake decorations (YouTube)
Cards, gift tags, wrapping paper 
If you have a few spuds no good for eating lurking in your cupboard, use them to make a fun craft. Shaped biscuit cutters help transform potatoes into easy-to-use stamps for little ones. Adults will need to make the stamps as a knife is required, but this simple project won't take long, 5 minutes prep time and hours of fun. Read more here, how to make potato stamps (BBC Good Food)