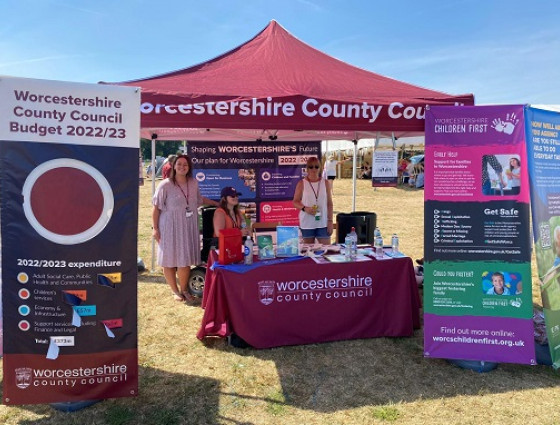 Your roadshows 2023
Each year we head out on a tour of Worcestershire to speak to residents at Roadshows across the County.
Face to face resident roadshows 2023
Visiting all six districts, we reach out to communities to tell us their views about the services we provide and about how they feel about living in Worcestershire.
County Councillors and expert officers will be on hand to answer any questions you may have regarding the services we provide.
We have been holding Roadshows as a great way to engage directly with residents since 2009 and there have been conversations with thousands of people from across Worcestershire over the years.
When and where are the roadshows taking place?
This years roadshows will be taking place at follows:
Hanbury Show Saturday 1 July
Evesham River Festival Saturday 8 July
Bromsgrove Carnival Saturday 15 July
Tenbury Show Saturday 5 August
Far Forest Show Saturday 12 August
Worcester Show Sunday 13 August
Saltfest, Droitwich Saturday 2 September
Upton Town Centre Saturday 9 September
Kidderminster Market, Town Centre Saturday 23 September
Redditch Kingfisher Centre Saturday 30 September
Worcester City Centre, Crowngate Shopping Centre Saturday 21 October
You can also have your say online
If you can't make our face to face roadshows, or would prefer to participate online, you can have your say on this year's themes digitally. Your feedback is valuable and anonymous and could help us shape our future priorities and services we provide.